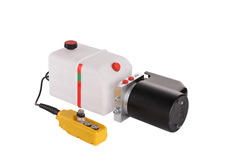 Ningbo,Zhejiang (PRWEB) August 30, 2017
Target Hydraulics, a leading manufacturer of hydraulic power units, power packs and manifold blocks, will attend the Automechanika Brand Trade Fair to be held on 29th November to 2nd December 2017, in Shanghai, China. Technicians and engineers from the company will be in attendance to demonstrate and showcase the main Target Hydraulics products.
Target Hydraulics products will be in showroom 6 booth number 6.1A01. Attendees will get first-hand information about various hydraulic systems, which will range from technological advancements, challenges and opportunities in the industry.
"Our technicians and engineers have been working to stay ahead of the competition through R&D, thereby introducing innovative solutions in the hydraulics industry," said Edwin Chan, Target Hydraulic Product Manager. "We are thrilled to be part of this year's Automechanika Brand Trade Fair and our team looks forward to interacting and sharing valuable information at our disposal."
Automechanika Brand Trade Fair 2017
Automechanika is the largest trade fair that focuses on the automotive industry and it will be held in Shanghai, China from 29th November to 2nd December 2017. This year's trade fair is one of the largest since its inception with an exhibition space of 330,000sqm.
The 2017 Automechanika Brand Trade Fair will be held at the National Exhibition and Convention Center in Puxi, Shanghai. Over 6,000 exhibitors from more than 42 countries are expected to attend the Automechanika exhibition.
Target Hydraulics Main Products
Target Hydraulics will showcase a range of products during the Automechanika Brand Trade Fair in showroom 6 booth number 6.1A01. These will include hydraulics manifold blocks, hydraulic valves, hydraulic power packs and hydraulic power units.
The hydraulic systems are designed for most automotive applications where lifting heavy loads and precise control of hydraulic fluid is imperative. Industries that are set to benefit from Target Hydraulics systems are construction, agriculture, shipping and automotive, just to mention a few.
During the Automechanika exhibition, interested participants can purchase hydraulic products or order for custom made designs.
About Target-Hydraulics
Target-Hydraulics is a leading hydraulic power packs, hydraulic power units, hydraulic valves, hydraulic manifold blocks hydraulic manifold and hydraulic components manufacturer in China.
The company uses AutoCAD and SolidWorks to design hydraulic systems for its OEM clients. All Target Hydraulics products are precisely designed and manufactured to high quality standards to meet various application requirements such as in tipping trailers, scissor lifts, straddle stacks, etc.
Contact info:
Contact person: Edwin Chan (Product Manager)
Phone: 0086-574-8628-0025
Email: sales(at)target-hydraulics(dot)com
Website: http://www.target-hydraulics.com