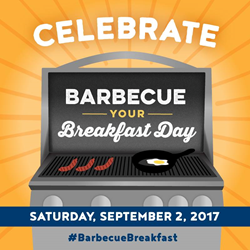 Arlington, Va. (PRWEB) August 28, 2017
What:
National Barbecue Breakfast Day
When:
Saturday, September 2, 2017
Who:
The Hearth, Patio and Barbecue Association encourages people across the country to barbecue breakfast.
Where:
Backyards across the country & join the conversation by using #BarbecueBreakfast and following @HPBABarbecue on Facebook, Twitter and Instagram.
Why:
1) Quick and easy - Anything made for breakfast in the kitchen like sausage, bacon, eggs, toast, and pancakes, can be made on the grill in a matter of minutes.
2) Adds flavor - There is no better method to enhance food and add a satisfying smoky flavor than cooking over an open flame.
3) Minimal mess - Toss meats right on the grill, whip up a one skillet egg bake, or use tin foil as a substitute for baking dishes and frying pans to keep dishes to a minimum.
4) Opt outside - Fresh air and sunshine will help wake grillers up and ensure the day starts feeling fresh and reenergized.
5) Create memories – Breakfast is often the only meal of the day that entire families are together – spend it outside creating lifelong memories and family traditions.
About the Hearth, Patio & Barbecue Association (HPBA)
The Hearth, Patio & Barbecue Association (HPBA), based just outside of Washington, DC, is the North American industry association for manufacturers, retailers, distributors, representatives, service firms, and allied associates for all types of fireplace, stove, heater, barbecue, and outdoor living appliances and accessories. HPBA provides professional member services and industry support in government relations, events, market research, education, certifications, consumer education, and industry promotion.