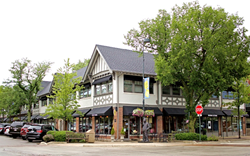 The positive buzz and energy going on with Hoffmann buying buildings and renovating is exactly what the community needs. -- Patrick O'Neil, Winnetka restauranteur.
Wilmette, IL (PRWEB) August 28, 2017
While analysts wring their hands over the impending death of brick-and-mortar retail stores, maverick investors are seizing the opportunity to re-invigorate the downtown shopping experience. Hoffmann Commercial Real Estate is leading that charge, aggressively expanding its portfolio in carefully targeted markets to create attractive destination neighborhoods filled with successful local businesses.
"Of course, the retail paradigm is shifting," acknowledges Greg Hoffmann, CEO of Hoffmann Commercial Real Estate, "but people will still leave their computers at home for a positive experience in their communities. As property owners, our goal is to create that exciting neighborhood atmosphere that draws people out."
Hoffmann's strategy identifies high-potential properties in curated, concentrated areas as existing owners back away from retail sectors. The company then invests in both improvements to individual properties and enhancements to the general neighborhood, ranging from fresh paint, awnings, and signage to sculpture walks, live music performances, and other promotions. Result: sleepy downtowns become engaging destinations for shopping and dining.
Based on the North Shore, the company has transformed downtown shopping areas in Avon, Colorado including the Beaver Creek Ski Resort and Naples, Florida's Old Towne 5th Avenue South, achieving tenancy rates of 97 percent across more than 60 properties nationwide. Hoffmann is now expanding its footprint in the North Shore suburbs of Chicago, particularly in downtown Winnetka where it has acquired 14 properties. Most of the tenants are small businesses, many with deep roots in the community. Storefronts along Lincoln Avenue, Elm Street, and Chestnut Court are being spruced up, and foot traffic to local cafes and businesses is boosted by new statuary and weekend music.
"A community like Winnetka is a prime setting for our business model," observes Hoffmann. "The population has a healthy level of disposable income and is trending younger, with residents who enjoy walking, biking, and socializing locally. We have tenant businesses that are part of local history, such as Lakeside Foods, Trifecta Grill, Little Ricky's, Café Aroma, Stacked & Folded, Mirani's at Home, Sara Campbell, Optique, JMcLaughlin, Orrington Jewelers, Mark Beard, and Donald Stuart. As property owners, we can help our tenants maintain their existing customer relationships and also attract new foot traffic."
Hoffmann's business tenants appreciate the company's commitment to enhancing the overall appeal of their properties.
"The positive buzz and energy going on with Hoffmann buying buildings and renovating is exactly what the community needs," believes restauranteur Patrick O'Neil, owner of Little Ricky's and Trifecta Grill. "As a long-standing board member of the Business Community Development Commission of Winnetka, this is the kind of ownership we have been waiting for. My wife Mary and I have owned three restaurants, a women's clothing boutique, and a detail car wash all in Winnetka. We share the company's vision and appreciate their investment in a community that has huge potential for growth."
"We are excited by the very visible improvements taking place in Winnetka," notes Kaveh Mirani, owner of Mirani's at Home catering. "The fresh paint and new awnings make a real difference, and the sculpture walk is interesting and attractive. Lincoln Avenue is looking great."
Having grown up in the family business, Greg Hoffmann takes the long view for the future of retail. "This isn't the first transformation for retail-based real estate," says Hoffmann. "Downtowns lost customers to malls decades ago, which then lost to big box stores, which now are buffeted by online competition. We see the next phase as the rediscovery of the power of local shopping experiences."
Hoffman adds, "I think America's Downtown represents memories for children, families, and friends. It lends itself to a feeling of being connected and identifying with the community, a place to be proud of and a lifetime of childhood and family memories that cannot be replaced in malls or via the Internet. We hope to enhance and bring that downtown vibe back to life."
For more information on Hoffmann Commercial Real Estate, visit HoffmannCRE.com.
About Hoffmann Commercial Real Estate
Hoffmann Commercial Real Estate is an established real estate holding company headquartered on the North Shore of Chicago. Hoffmann Commercial Real Estate transforms and maintains properties to a Class "A+" standard, or more commonly known as the "Hoffmann Standard." This commitment to excellence contributes to the company's overall tenancy rate of 97 percent. The company's portfolio is rapidly growing, consisting of both stabilized and value-add properties in strategic locations throughout the country, with future investments in the United States and abroad. Our reputation represents an unrivaled commitment to excellence and is becoming more widespread with every transaction. Learn more at HoffmanCRE.com.