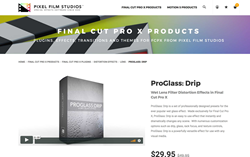 This plugin provides easy wet glass effects for FCPX Editors.
Aliso Viejo, CA (PRWEB) August 26, 2017
ProGlass Drip is a set of professionally designed presets for the ever popular wet glass effect. Made exclusively for Final Cut Pro X, ProGlass Drip is an easy to use effect that instantly and dramatically changes any scene. With numerous customization options such as drip, glass, rack focus, and texture controls, ProGlass Drip is a powerfully versatile effect for use with any visual media.
ProGlass Drip is an easy to use wet glass look effect. Choose from a variety of presets that include an intro and outro variation. From light to heavy drips, ProGlass Drip is a versatile plugin. The Directional Drip Preset gives users a more dynamic preset for scenes that will benefit from it. Users can instantly add this effect to any visual media.
ProGlass Drip includes the options to rack focus into the background, foreground, or neither of the two, keeping both in focus. This option greatly enhances this plugin's versatility. ProGlass Drip also includes and outro version of each preset to rack focus out. Easily choose a focus option from the drop-down menu in the parameter's list and start creating today.
ProGlass Drip includes a number of textures to tinker with. Whether it's a scratched or dusty lens look, each texture in the drop-down men includes options to flip in the y or x axis for added customization. The included frosted glass texture is customizable as well, with options for texture spread, softness, and refraction. The included textures makes ProGlass Drip a dramatically versatile plugin for use in Final Cut Pro X.
ProGlass Drip was designed to help you customize and create wet glass effects for your scenes or titles without ever leaving Final Cut Pro X. Efficiently change the focal point, streak amount, drop amount, clarity, intensity, speed, scale, color, and texture parameters to build your very own wet glass scene. Create unique scenes in FCPX with ProGlass Drip.
Established in 2006, Aliso Viejo, California-based Pixel Film Studios is an innovative developer of visual effects tools for the post-production and broadcast community. Their products are integrated with popular non-linear editing and compositing products from Apple FCPX. Apple, the Apple logo, Mac OS X, and Macintosh are registered trademarks of Apple Inc. in the U.S. and/or other countries. All other trademarks and trade names are the property of their respective owners.