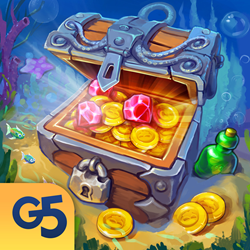 Want to be a real swaggering pirate? Then weigh anchor and hoist the mizzen!
San Francisco, California (PRWEB) August 29, 2017
Pirates & Pearls is a new puzzle game, developed internally and wholly owned by G5 Entertainment. It is G5's fresh take on a popular "match 3" genre where players move and match gems on a board to solve a level. The game will become available on the Apple App Store worldwide on 29 August and will support both iPads and iPhones from the beginning, as well as portrait and landscape play modes.
Match gems and plunder your way through hundreds of puzzle matching levels filled with precious loot in G5's new game Pirates & Pearls: A Treasure Matching Puzzle, now available on iOS. Build mighty ships, pillage wealthy ports and construct gold mines while perfecting your puzzle-solving and buccaneering skills. Download this hugely entertaining sea adventure today!
Key Features:

Conquer hundreds of puzzle matching levels over 10 swashbuckling chapters
Defy the odds with lifesaving boosters and clutch power-ups
Play with yer best mates and see who can capture the most loot
Build ships, construct gold mines and assemble the best crew around
Get regular free updates with thrilling new levels, features and more
When: August 30, 2017
Where:
App Store: https://itunes.apple.com/app/id1241322027?mt=8
The game is developed and published by G5 Games.
For additional information please contact: press(at)g5e(dot)com.
About G5 Entertainment
G5 Entertainment Group (NASDAQ OMX: G5EN.ST, Bloomberg: G5EN.SS, Reuters: G5EN.ST) is a developer and publisher of high-quality casual and free-to-play games for smartphones and tablets. The group distributes games through iOS, Google Play, Kindle Fire, Mac and Windows application stores. G5 develops and publishes games that are family-friendly, easy to learn and targeted at the widest audience of experienced and novice players. G5's portfolio includes popular games like Hidden City®, Mahjong Journey®, Survivors: The Quest®, The Secret Society®, Virtual City® and Supermarket Mania®. Through its head entity G5 Entertainment AB (Publ), G5 Entertainment Group is publicly listed on NASDAQ OMX Stockholm main market under trade symbol G5EN.ST.
More information about the company can be found at: http://www.g5e.com/corporate.
Press Contact: Tatiana Timoshenko, Director of Communications, Tatiana.timoshenko(at)g5e(dot)com