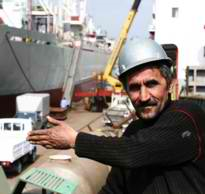 Our results do not support the hypothesis that pleural malignant mesothelioma risk indefinitely increases...
Raleigh, NC (PRWEB) August 28, 2017
People who who were first exposed to asbestos 40 years ago or more may rest a little easier thanks to the results of a newly-released Italian study. Surviving Mesothelioma has the details of the new report. Click here to read it now.
After studying more than 1,800 asbestos cement workers, scientists in Pavia, Italy found that their chances of receiving a mesothelioma diagnosis stopped climbing - and even appeared to go down a little - once four decades had passed since their first exposure to asbestos.
"Our results do not support the hypothesis that pleural malignant mesothelioma risk indefinitely increases after exposure, suggesting instead that the alternative hypothesis of a risk plateau or decrease after a time since first exposure of more than 40 years is more consistent with the observed data," writes lead author Enrico Oddone with the University of Pavia.
The study in the American Journal of Industrial Medicine mirrors the findings of a larger Italian report released earlier this month and published in Occupational and Environmental Medicine.
"While the lifetime risk of developing mesothelioma is always going to be higher in people who have been exposed to asbestos, this study is a bit of good news for those whose exposure ended decades ago," says Alex Strauss, Managing Editor for Surviving Mesothelioma.
For a better understanding of asbestos exposure and mesothelioma risk over time, see Second Study Confirms Pleural Mesothelioma Risk Plateau, now available on the Surviving Mesothelioma website.
Oddone, E, et al, "Mortality in asbestos cement workers in Pavia, Italy: A Cohort study", August 18, 2017, American Journal of Industrial Medicine, Epub ahead of print, http://onlinelibrary.wiley.com/doi/10.1002/ajim.22750/full#references
For more than a decade, Surviving Mesothelioma has brought readers the most important and ground-breaking news on the causes, diagnosis and treatment of mesothelioma. All Surviving Mesothelioma news is gathered and reported directly from the peer-reviewed medical literature. Written for patients and their loved ones, Surviving Mesothelioma news helps families make more informed decisions.