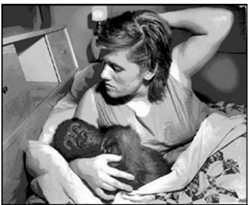 Timmins, Ontario, Canada (PRWEB) August 29, 2017
The history of Mumba, the first male gorilla to arrive in Canada, and to live in a Canadian zoo for 48 years before passing away, is full of important lessons concerning conservation and primates' protection. Originally told by author Vivian Nguepi Dongmo in "Mumba the Indomitable Gorilla (Mumba le gorille indomptable)" in a book aimed at adults in both English and French, the independent publisher Impala recently announced a crowdfunding campaign to put together and release a special children's edition of the author's important work, titled "Mumba, My Great-Ape Friend". Enthusiasm surrounding this important project, that will ensure the memory of Mumba is not forgotten, while also educating children on this vital subject, is high. Both an English and French edition of the children's book are in the works.
"It's so important that we don't miss this chance to deliver a message of conservation to a new audience and emphasize the close link between great apes and human beings," commented Dongmo, who in addition to her work as an author, also works for the Public Service of Canada. "Considering the complexity of the mechanisms of the children's book publishing industry, it is difficult for me to carry out this project alone, so I'm reaching out for help through Indiegogo."
Mumba was brought to Canada at the age of one, after his family was decimated by a hunting party in Africa. Initially adopted by a white family who raised him with love and affection as a human baby, Mumba displayed a remarkable ability to adapt, learn and socialize all of which were well documented and explored in Dongmo's first book on the subject. Sadly, Mumba was ripped from this caring environment and placed in the more cold, near prison like captivity of Granby Zoo, where he would become its mascot, ultimately seen by well over 20 million people. Dongmo's writing sheds a remarkable light on all of the stages of Mumba's life, including the quite incredible story of his being removed from his human family's life – an event which involved the exchange of gunfire, which some say Mumba was even a participant in!
The crowdfunding campaign has set a goal of $34,200 which will be used to publish a three volume children's series, each volume covering a different portion of the gorilla's remarkable life, and the extraordinary events surrounding it and can be easily adaptable into a movie.
Exciting perks are being offered based on the size of donation, ranging from electronic copies of Mumba's book all the way to print editions, both for donor and as gifts to local libraries for public education and enjoyment.
For more information and to donate be sure to visit https://www.indiegogo.com/projects/mumba-project-the-true-story-of-the-gorilla-mumba/x/17024688#/