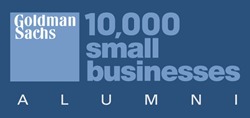 Seattle, WA (PRWEB) August 28, 2017
Toosum Healthy Foods was one of over 100 companies which graduated from Goldman Sachs' 10,000 Small Businesses, a national program created to help entrepreneurs create jobs and economic opportunity by providing greater access to education, capital, and business support services. The graduates of the program this spring completed the blended online and face-to-face program that delivers intensive entrepreneurship training and practical training from Babson's business experts and peers, alongside educational teams who teach the 10,000 Small Businesses program at community colleges across the country. The small businesses in this group represent a total of $174M in revenues and over 3,000 jobs from a broad range of industries including manufacturing, construction, retail, services, and non-profit organizations.
"Because of the GS program, we conducted an analysis and determined to launch a new range of protein cookies," explained Toosum Healthy Foods CEO Peter Guyer. "The new line will be low-calorie, low-sugar, high protein snacks."
10,000 Small Businesses offers qualified business owners:

Guidance in creating a customized growth plan that includes opportunity identification and feasibility analysis, financial management, leadership, negotiations, and marketing.
One-on-one business counseling and a network of peer support from other small business owners, as well as leaders in the business world.
About Goldman Sachs 10,000 Small Businesses
Goldman Sachs 10,000 Small Businesses is based on the broadly held view of leading experts that greater access to this combination of education, capital and support services best addresses barriers to growth for small businesses. 10,000 Small Businesses is guided by an Advisory Council on which Babson President Kerry Healey serves and is co-chaired by Goldman Sachs chairman and CEO Lloyd C. Blankfein, Bloomberg L.P. founder, president and CEO, and 108th Mayor of the City of New York Michael R. Bloomberg, Berkshire Hathaway chairman and CEO Warren Buffett, and the Initiative for a Competitive Inner City's Dr. Michael Porter.  The National Urban League and the U.S. Hispanic Chamber of Commerce are also represented on the Advisory Council, among other groups. WEBSITE: http://www.babson.edu/executive-education/expanding-entrepreneurship/10k-small-business/Pages/home.aspx
For more additional information, visit https://toosum.com or contact Brooke Daily at brooke(at)veteranpr(dot)com.