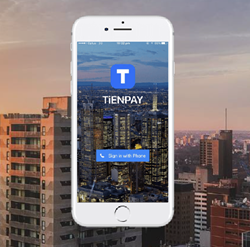 T8Coins are to fund a smart contract-based media and loyalty disbursement project that is expected to return handsomely for our token holders
Hong Kong (PRWEB) August 28, 2017
TiENPAY Limited, a pioneer financial technology firm that offers a global digital mobile wallet, clearance and settlement platform, announces that it has launched its T8Coin initial coin offering (ICO). The offering, from which investors can purchase TiENPAY's proprietary T8Coin tokens with attractive investment return prospects, will fund the company's development of an innovative blockchain-based royalty disbursement platform.
At the same time, TiENPAY is officially launching a fully licensed digital currency exchange in Hong Kong today, in partnership with Chinese financial firm, Baixin Financial Group Ltd. The exchange will allow the trading and conversion of four pairs of cryptocurrencies and fiat currencies, including Bitcoin/US dollar, Bitcoin/Australian Dollar, Bitcoin/CNY, and Bitcoin/Hong Kong dollar.
"I'm excited to announce that TiENPAY's ICO has so far received strong investor enthusiasm, because our T8Coins are to fund a smart contract-based media and loyalty disbursement project that is expected to return handsomely for our token holders," says William Tien, founder and CEO of TiENPAY. "In addition, the launch of the Hong Kong digital currency exchange pushes us one step forward in realizing our mission of creating a global and ubiquitous omni-channel financial platform offering hassle-free access to digital goods and services."
"We are excited to partner with leading fintech company TiENPAY to launch the Hong Kong digital currency exchange," says Liu Ziwei, Managing Director of Baixin Financial Group. "The exchange will benefit the fintech community in Asia to convert cryptocurrency and fiat currency with the convenience of just a few swipes of their fingers."
The Initial coin offering, similar to an initial public offering, is a form of crowd sale where tech companies or projects raise capital in the form of crytocurrency, usually Bitcoin or Ethereum, by issuing project tokens. Since Mastercoin announced the first ICO globally, ICOs have become increasingly popular. In 2017, nearly 90 ICOs have taken place globally, raising crytocurrencies worth US$1 billion. China's first ICO was completed last year by a project named Xiaoyi, and the market has skyrocketed since then. During the first half of this year, 64 ICOs were issued in China, raising crytocurrencies worth a total of RMB2.6 billion (US$420 million), taking over 40% of the global total.
TiENPAY's T8Coin is a crypto token that utilizes the Ethereum Blockchain and consensus network. Early investors buying T8Coins during the ICO will be entitled to receive royalties in perpetuity from 20 web films TiENPAY plans to produce in the next five years. The web films will be embedded with TiENPAY's proprietary Xtopp platform, which offers innovative advertisement and sponsorship opportunities to clients, therefore creating lucrative revenue streams that will be distributed to T8Coin holders. These web films will be distributed on China's major online video sites and other prominent distribution channels.
The ICO accepts Bitcoin or Ethereum in exchange for the T8Coin token, which represents a contractual right to receive a royalty derived from the sale of T8Coin content. T8Coin is supported by Smart Contracts that act as an escrow agreement between the T8Coin and the Investors who purchase the tokens.
"It is the first time where web film production and distribution has been combined with innovative smart contract and blockchain technology to create an opportunity to benefit discerning investors," says Victor Chow, co-founder and group chief operating officer of TiENPAY. "We expect with the completion and broad online distribution of our first movie before year-end, our token holders will be generously rewarded for their foresight in purchasing our T8Coin tokens."
Last month, TiENPAY announced that it plans to produce 20 web films to promote the usage of innovative technologies such as its own mobile wallet. The first film, a comedy thriller web film "Wallet", will be produced by Beijing Jinmache Film & Television Culture Communication Co., Ltd. Production will start in September.
The pre-ICO, which has a maximum of 100 million T8Coins, began on August 18. The T8Coin crowd sale, with a cap of 100 million tokens, will start from September 8 to 22, 2017. Any unsold tokens will be "burned", or destroyed.
ABOUT TiENPAY:
Tracing its roots back to the first mobile phone mobile wallet in Australia in 1996, TiENPAY Limited is a leading global mobile wallet clearance and settlement platform. Founded by Singaporean entrepreneur and finance veteran William Tien and former Huawei executive Victor Chow, the company's operations include mobile wallet apps and a digital currency exchange. The company currently has operations in Hong Kong, Singapore, China, Australia, U.S., U.K., India and Russia.
*Important disclosure: Investors are advised to exercise caution when purchasing cryptocurrencies, and are advised to conduct their own research and come to a conclusion purely based on their own analysis. This release is distributed to inform and disclose information and may not serve in any way as defining TienPay Limited and its affiliates' legal obligations to token purchasers.