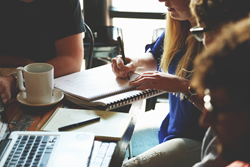 Today's college students are under enormous pressure to excel on and off the campus.
New York, NY (PRWEB) August 30, 2017
Now, more than ever before, college students are under enormous pressure to excel on and off the campus.
To help them stay focused, lifestyle expert Jeni Bond -- from FunTrendsUSA.com -- recommends the following products and services:

"Zelle is a fast, safe, easy new way to send money from your mobile banking app. With Zelle, parents can send their college student money typically within minutes when both the sender and recipient are registered. The sender needs to know only the recipient's email address or phone number. Many people already have Zelle as part of their mobile banking app. Visit ZellePay.com for a list of banks and credit unions that offer Zelle today."
"Heimlich Heroes is a non-profit group that is working with school nurses, teachers, and afterschool clubs across the country to provide life-saving training to kids and adults of all ages. Participants learn to recognize the signs of choking and to properly perform the Heimlich maneuver. Parents and schools are urged to request a free training kit at HeimlichHeroes.com. It could save a life!"
"Mattress Firm conducted a recent study that found college students and others who lead stressful lives, are five times as likely to experience insomnia. Mattress Firm offers the perfect solution with mattresses that fit every budget. Students with their college IDs can receive a 10% discount on the Hampton & Rhodes 300 Visco Memory Foam mattress; the Hampton & Rhodes 500 mattress; and the Beautyrest Ashaway mattress. Visit a Mattress Firm store or mattressfirm.com/back-to-school for more details."
For more information, contact: Jeni Bond on Twitter @JeniBondSays or Barry D. Miller, Miller/Weiner Communications at 551-697-3007, barry(at)miller-weiner.com or on Twitter @MillerWeinerCom.