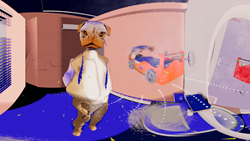 Just as music videos were transformative when first introduced, we believe that VR is the future of music
New York, NY & Tel Aviv, Israel (PRWEB) August 28, 2017
Inception, the next-generation immersive content network, recently funded by Bertelsmann's RTL Group, today launched their first joint VR programming with Pitchfork, featuring famed artist Mac DeMarco's acclaimed single "This Old Dog." The video, created by multimedia artist Rachel Rossin, takes Mac's playful sense of humor and infuses it with first generation CGI and 90's video game graphics, sending the viewer soaring to dizzyingly psychedelic heights.
As announced last month, Inception and Pitchfork have formed a partnership to give music fans worldwide the chance to experience new dimensions to music with the Pitchfork Channel on Inception's VR app. Pitchfork's award-winning video channel launched in 2008, and in the years since has become the leading voice for coverage of music across all visual platforms. Inception is a leader in creating and distributing VR casual content. In this first piece as part of their new collaboration, Mac DeMarco is featured in a wholly immersive format that showcases the potential of VR to reinvent the music experience.
In coming months, Pitchfork and Inception will release new VR titles by Pitchfork curated artists.
"Our collaboration with Pitchfork and Mac DeMarco showcases the next generation of music programming," said Benny Arbel, CEO and Co-Founder of Inception. "Just as music videos were transformative when first introduced, we believe that VR is the future of music—with immersive and multi-dimensional multi-sensory capabilities. Pitchfork is the most trusted voice in music and we lead in VR content across entertainment. Look out for more taste-making VR content from us that, we believe, will define and steer the industry."
"While we're not putting any limits on our partnership with Inception and what we may do down the road, at the moment, we're singularly focused on creating VR music videos," said RJ Bentler, Pitchfork VP of video programming. "Music videos have been a huge driver of the digital medium for a decade, and have helped shape and define the form. It's an infinitely malleable format, and the immersive and interactive nature of VR opens up an equally infinite number of possibilities for visualizing and experiencing music."
Inception Co-Founder and CMO Dana added, "Our collaboration with Pitchfork brings to life what publishers and brands can do to captivate millennials and all audiences. Increasingly content is dimensionalized through AR, MR and VR. We're proud to be the leader in immersive programming partnering with the most forward-thinking brands and content creators to chart the future."
DeMarco's "This Old Dog" will live on Pitchfork's VR music channel on Inception. Launched in October 2016, Inception has apps for Oculus Rift, Samsung Gear, iOS, Android, Google Daydream and HTC Vive, with Microsoft Windows Mixed Reality and Sony PSVR coming soon.
To check out "This Old Dog," please see:
Trailer: https://www.youtube.com/watch?v=i3dRsaYqsck
Full video: https://www.youtube.com/watch?v=qgugDlSQPFw
Pitchfork story: http://pitchfork.com/news/mac-demarco-shares-new-this-old-dog-vr-music-video-watch/?mbid=homepage-more-latest-and-video
Pitchfork "behind the scenes": http://pitchfork.com/thepitch/mac-demarco-virtual-reality-behind-scenes/?mbid=homepage-more-latest-and-video
Download Inception app: https://inceptionvr.com/download/
ABOUT INCEPTION
Inception is fast becoming the leading 360 & VR destination of choice for premium content for millennials. Inception launched in October 2016, and has top apps for all leading platforms. Inception has produced notable art, music and lifestyle content, such as 'Daydreaming with Stanley Kubrick', and experiences from the world of Salvador Dali, music experiences with DJs Dimitri Vegas & Like Mike, and a steady content creation with publisher partners including Time Out and Pitchfork.
###
Media Contact:
Andy Morris
Code Morris for Inception
andy.morris(at)codemorris(dot)com
917.710.1802