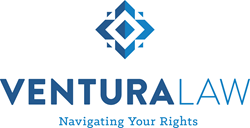 Danbury, Connecticut (PRWEB) August 29, 2017
Ventura Law, which is celebrating its 60th Anniversary this year, is pleased to announce the addition of three new attorneys to the firm, including Edwin Camacho in its new Norwalk, CT office, Sabrina Victor in its Danbury office, and long-time Danbury immigration lawyer, Cynthia Exner, who is joining as of-counsel.
Camacho, a seasoned personal injury attorney admitted to practice in both Connecticut and New York, returns to Ventura Law to head up the Firm's new Norwalk, CT office, which is located at 54 ½ South Main Street in Norwalk. Camacho has more than 32 years of legal experience, including litigation and trial experience in personal injury law, medical malpractice, criminal defense and family and appellate practice. He is a graduate of Amherst College, Amherst, Massachusetts undergrad and Indiana University School of Law. Camacho is fluent in Spanish, and is a member of the American Bar Association, the Connecticut Trial Lawyers Association, the New York State Bar Association and the Hispanic Bar Association.
Victor, a personal injury trial attorney in both Connecticut and New York, has returned to Ventura Law after working for two years for a major insurance company as senior trial counsel. Originally from Brazil, Attorney Victor is fluent in Portuguese and Spanish and attended law school at the Benjamin N. Cardozo School of Law in New York City. After graduating from law school, she worked for the Refugee Clinic at the University of Cape Town as an advocate for asylum seekers. She has also served on the board of directors of the Federation for Jewish Philanthropy of Upper Fairfield County. Victor will serve as a senior litigator in the Firm's Danbury office.
Exner, who maintains her principal office for the practice of immigration law in Danbury, has practiced law since 1980, and has specialized in immigration law since 1984. She joins Ventura Law as of-counsel to continue to serve the immigration needs of the community. She obtained her law degree from Pace Law School in White Plains, New York, and is admitted to practice in Connecticut, the Federal District Court, and the Supreme Court of the United States of America. She is the 1993 Recipient of the American Immigration Lawyers Association Pro Bono Award for promoting the highest goals of professional responsibility. She has served as the Connecticut Chapter Chairperson to the AILA, and on the AILA Board of Governors.
About Ventura Law
Ventura Law has been dedicated to providing it clients with compassionate legal service and a strong voice in the legal process since 1957. With four offices in Connecticut and one in New York City, we are a full-service practice, serving clients who have been injured in cases ranging from motor vehicle accidents, workplace accidents, premises liability, or pharmaceutical/medical device claims. To learn more about Ventura Law, please visit us online at http://www.venturalaw.com or call us at 203.800.8000.
Media Contact: Gaspare J. Marturano 203-400-5652 gaspare(at)venturalaw.com