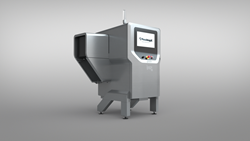 San Carlos, California (PRWEB) August 30, 2017
Peco InspX is pleased to announce its presence at the 2017 DrinkTec show at the Messe in Munich Germany in booth A5.241. The focus of the company's exposition will be its new SHIELD lineup of X-Ray foreign material inspection systems. The SHIELD systems are designed to provide the very best foreign material detection at the full line speeds of beer and beverage environments (Peco InspX currently has X-Ray machines operating at beverage facilities at speeds up to 2,200 containers per minute).
The fundamental difference between the Peco InspX SHIELD system and other foreign material detection solutions is that the SHIELD system is a full container inspector and can thus detect any defects located anywhere in the container. In addition Peco-InspX systems can verify fill-level and even cap presence. Plus the system can save the image associated with each inspected container, making it easy to understand the causes of rejects.
The SHIELD platform also offers best in class inspection performance with metal detection in a 12 oz glass beverage bottle down to 0.8 mm (sphere) and glass detection down to 2.8 mm (soda lime glass sphere) and this level of detection can be achieved at an exceptionally low false reject rate below 0.05% while operating at full line speeds.
"Our SHIELD X-Ray systems represent a significant leap forward from current best in class inspection platforms." We are delighted to feature this new platform at DrinkTec and to invite beverage operators to try it in their plants," remarked Peco InspX CEO Rich Cisek.
Learn more at http://www.peco-inspx.com/
About Peco InspX
Peco InspX Corporation is a leading provider of advanced technology inspection solutions for the food and beverage industries. With headquarters in Silicon Valley (San Carlos), CA, the company serves customers around the world and inspects over 120 million food and beverage containers daily. The company specializes in accurate high speed package inspection in machines that are easy to use with a low cost of ownership.