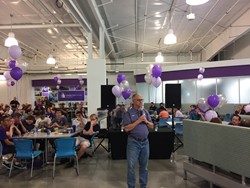 Lakeland, Florida (PRWEB) August 28, 2017
Florida Polytechnic University started its fourth academic year on Monday, August 21, welcoming the school's inaugural freshman class back for their senior year.
The University opened in 2014 with approximately 550 students – including transfers, graduate students and the inaugural freshman class. This year, Florida Poly welcomed more than 400 new students and 1,050 returning students, beginning the year with a total enrollment of over 1450.
"When I arrived on campus four years ago, this university had literally just opened its doors," said Jacob Livingston, a senior and President of the Student Government Association. "It's been quite an experience for me to grow with the school over the past four years, but I'm most excited about this year and being able to serve in a leadership role. I'm so grateful to the students, faculty and staff for all their hard work to put Florida Poly on the map and to make this an unforgettable college experience for us all."
This summer, Florida Poly received initial regional accreditation from the Southern Association of Colleges and Schools Commission on Colleges (SACSCOC) to award bachelor's and master's degrees. Receiving this accreditation means future Florida Poly graduates, and those who graduated earlier this year, will have a degree from a regionally accredited university. This achievement also satisfies the sixth and final milestone outlined at the founding of the University by the Florida Legislature.
"Accreditation is an outstanding achievement and all of us should take a great degree of pride in our success. And while I'm excited about what we've accomplished in the past, I'm even more excited about the future and what we can do together as a University," said President Dr. Randy K. Avent.
Florida Poly welcomed students back and celebrated accreditation during Purple Fire Week, an annual spirit week that kicks-off the academic year with daily activities and festivities to immerse students in college life. The week began on Saturday, August 19, with a field-water day and an "all-nighter" in the Commons. It ended Friday afternoon with the celebration of accreditation in the Wellness Center where students, faculty and staff enjoyed an afternoon of barbecue, music and giveaways.
"I want to thank everyone who came out to celebrate this major milestone with us today," said President Avent. To accomplish all that we have accomplished in three short years is no small feat. As we begin our fourth academic year, welcome our inaugural freshman to their senior year, and begin to plan for the future; I want to sincerely thank the students, faculty and staff for their tireless dedication to the success of Florida Poly."
In the year ahead, Florida Poly will move forward from the start-up phase and focus on building a stronger Florida economy by developing future high-tech business leaders and creating jobs.
About Florida Polytechnic University: Florida Polytechnic University is the 12th member of the State University System of Florida and recently received regional accreditation from the Southern Association of Colleges and Schools Commission on Colleges (SACSCOC) to award bachelor's and master's degrees. Dedicated exclusively to STEM (Science, Technology, Engineering and Mathematics), the University is a powerful economic engine within the state of Florida, blending applied research with industry partnerships to give students an academically rigorous education with real-world relevance. Faculty experts at Florida Polytechnic University provide insightful analysis, opinions and comments about a broad range of STEM and higher education subjects. To connect with Florida Poly, click here. The campus, located in Lakeland, Florida along the I-4 High Tech Corridor, opened for classes in the fall of 2014.