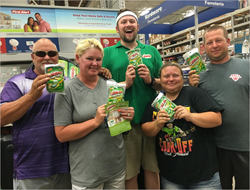 Arcola, Ill. (PRWEB) August 28, 2017
The Libman Company's second summer Embrace Life's Messes" Tour ended in San Diego on August 27 after visiting 171 retail locations in over 20 cities. Over the course of 10 weeks, Libman's team drove nearly 10,000 miles and gave away over 8,000 Libman products during the retail store visits to encourage consumers to embrace life's messes by letting Libman help do the work.
The "Embrace Life's Messes" tour began in South Haven, Mich. on June 21. The tour team, consisting of the duo Yen and Derek, served as Libman brand ambassadors and stopped at store openings, retail locations, and local events. At the retail stops, shoppers had the opportunity to see in-store product demos and as well as participate in games to win Libman prizes.
The tour was documented throughout the 10 weeks with blog posts, photos and videos of the team's adventures on social media sites and on http://www.embracelifesmesses.com. Additionally, Libman concurrently ran the Spin to Win Sweepstakes where over the course of the tour. There were over 271,000 spins of the online animated wheel for chances to win a Libman Wonder® Mop, which was given away every day of the tour.
The ten-week "Embrace Life's Messes" tour was an extension of Libman's television and print ad campaign that reminds consumers to "Remember the Moment and Forget the Mess." Whether it's making cupcakes together, playing with the family pet, or letting the kids dabble in arts and crafts projects, the message Libman wants to send is that Libman has consumers covered so they can enjoy the moment rather than fret about the mess.
"The 'Embrace Life's Messes' Tour provided an opportunity for us to directly share with consumers the benefits of Libman products as they embrace the messes," said Andrew Libman, president of The Libman Company. "In addition to providing fun for in-store guests and those that followed online, the store visits gave us an opportunity to directly hear from our customers across the country," added Libman. The company will evaluate next spring the possibility for a 2018 summer tour, depending on retail interest.
About The Libman Company
The Libman Company is a family-owned company that has been making quality cleaning tools since 1896. The company manufactures products from brooms and mops to more specialized tools for kitchen and bathroom cleaning and industrial uses. Libman proudly manufactures most of their products in the United States, including the company's well-known Wonder® Mop. For more information about the Libman Company, please visit http://www.libman.com.
# # #