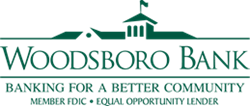 Frederick, Maryland (PRWEB) August 29, 2017
Woodsboro Bank is pleased to announce the addition of Mary Barry as Vice President & Business Development Office. Formerly a Business Development Officer at Frederick County Bank, Mary has nearly 30 years of banking experience.
"We are thrilled to have Mary join our team. She is a true community banker who shows passion in all she does; from her efforts in helping the community to exceeding clients' expectations," said Steve Heine, President and CEO of Woodsboro Bank.
Mary, who resides in Frederick with her husband Tom, is a graduate of the Maryland Banker's School, earned an Associate's Degree in Business Management from Frederick Community College and is a graduate of Leadership Frederick County.
She is a familiar face around Frederick County. Her current volunteering includes co-chair for the Mental Health Association's Catoctin Affair and Membership Chair of the Rotary Club of Carroll Creek. She serves on many committees including United Way's Financial Literacy Committee; Board member for SOAR; FMH Special Gifts Council and Business Development Council for The Community Foundation of Frederick County. Throughout her banking career, Mary has worked to advance the banking profession through the Maryland Banker's Association and is now serving as Chair of its Council of Professional Woman in Banking and Finance.
Mary is based at Woodsboro Bank's commercial lending headquarters at 50 Carroll Creek Way in Downtown Frederick and can be reached by calling 301-898-4779.