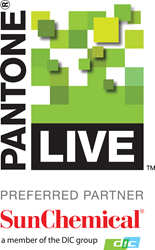 For the first time at Labelexpo, X-Rite, Pantone and Esko will be located on the same stand for a convenient one-stop approach to solutions for inspiration, design, communication, color management, and quality control.
GRAND RAPIDS, Mich. (PRWEB) August 29, 2017
X-Rite Incorporated, a global leader in color science and technology, and its subsidiary Pantone LLC, will join its sister companies Esko and AVT at Labelexpo to give label and packaging converters the opportunity to see the industry's most complete label and packaging solutions, from inspiration to the shelf. X-Rite, Pantone and Esko will be located on Stand 3C50 at the show, while AVT will be located at Stand 9C05. Labelexpo is scheduled for 25 to 28 September in Brussels.
"X-Rite, Pantone, Esko and AVT -- all members of the Danaher family -- have an extensive impact on the labels and packaging market," says Cindy Cooperman, Global Director of Packaging & Brand, X-Rite. "For the first time at Labelexpo, X-Rite, Pantone and Esko will be located on the same stand for a convenient one-stop approach to solutions for inspiration, design, communication, color management, and quality control. Customers will see combined solutions that simplify many steps in the process of label production and improve customer communication and production quality. Additionally, AVT, the world leader in print inspection, print process control, and quality assurance solutions, will showcase systems for automation and efficiency supporting Industry 4.0 production environments. Together, we are the only organization in the industry that can provide this level of end-to-end integration for labels and packaging converters."
Visitors to the Esko/X-Rite/Pantone stand will find ways to leverage technology to expand their print production capacity and profitability while producing quality output to meet their customers' demands. This includes:

Managing press runs with X-Rite ColorCert which delivers real-time process control, tracking and reporting.
Utilizing lean manufacturing techniques and integration of standard work, to reduce errors on the production floor.
Integration of Pantone physical and PantoneLIVE™ digital standards for uncompromising print quality across even the most sophisticated plant or complex supply chain.
Identifying the right tools to empower operators to schedule jobs between digital and conventional print for the utmost in accuracy, efficiency and cost-effective performance.
"In labels and packaging, ensuring consistent color across a global supply chain is still a challenge for many brands and the converters that support them," added Cooperman. "The first step in addressing this challenge is delivering a color specification that can be consistently implemented and measured against during the production process. That's exactly what we will be showing at Labelexpo – and end-to-end color workflow that will help brands and converters ensure consistent, reliable color, with faster time to market, lower costs and less rework and waste."
New Brand Packaging Starter Kit Bundle
Visitors will also have the opportunity to take advantage of a new Brand Starter Kit Bundle offering that is customizable for specific brand workflows within the labels and packaging industry, quickly putting brands on the right path to an intelligent and data-driven color and print quality program. The Brand Starter Bundle includes:

A portable spectrophotometer (either the X-Rite eXact or the Ci64);
PantoneLIVE license for Production with Visualizer providing common color digital standards for a wide variety of packaging materials and processes;
ColorCert InkRoom Tools for simple pass/fail software measurement of ink color; and
Judge QC light booth to ensure evaluation of color under controlled lighting conditions.
"This affordable Brand Starter Bundle will quickly pay for itself in improved results for both brands and converters," Cooperman concluded. "It includes a one-day WebEx training with an X-Rite Solutions Architect that is personalized to each organization. This along with access to our online training library helps organizations quickly get up to speed and immediately begin benefiting from more efficient operations."
Brand Guides and Beyond
At Labelexpo, X-Rite will be offering two free guides designed for brand owners and converters that will help improve communication and educate on the latest label and packaging color technologies.
Getting Color Right on Consumer Packaging provides brand owners with insight, advice and guidance on specifying, measuring, managing and securing real-time reporting for a data-driven print quality program. The guide is also an excellent educational tool for converters to use with their customers.
Fundamental Guide to Color Process Control helps converters understand where their operations fall on the color continuum and what steps they would need to take their businesses to the next level.
X-Rite will be conducting daily product and workflow demonstrations for visitors who work in the areas of design, premedia, ink formulation and print. In addition, X-Rite Ink Formulation demonstrations will be available at the following partner stands:

Codimag, Stand 11C10
Pulse-Roll Label Products, Stand 3C60
BOBST, Stands 3A58, 3A60 and 3A64
For more information about X-Rite solutions visit http://www.xrite.com/.
Media Alert: To schedule a one-on-one meeting with an X-Rite Executive at the show, please contact monika.d@duomedia.com.
About PantoneLIVE
PantoneLIVE is a cloud-based solution that enables the universal PANTONE Color language to be accurately communicated across the entire packaging workflow – from design concept to retail store shelves. PantoneLIVE extends the PANTONE PLUS SERIES Color Library, mapping critical color information to packaging-specific substrates. The PantoneLIVE ecosystem is supported by licensed hardware and software that enables each area of a packaging supply chain to access the same PantoneLIVE Colors, in addition to brand specific palettes. This results in consistent and repeatable color across product families, regardless of media or print technology, providing a cohesive brand approach. For more information, please see http://www.pantone.com/live.
About X-Rite
Founded in 1958, X-Rite Incorporated is a global leader in the science and technology of color and appearance. With its wholly owned subsidiary Pantone, X-Rite employs more than 800 people in 11 countries. The company's corporate headquarters are located in Grand Rapids, Mich., with regional headquarters in Europe and Asia and service centers across Europe, the Middle East, Asia, and the Americas. X-Rite Pantone offers a full range of solutions used by manufacturers, retailers, printers, photographers and graphic design houses to achieve precise management and communication of color and appearance throughout their processes. X-Rite Pantone products and services are recognized standards in the printing, packaging, photography, graphic design, video, automotive, paints, plastics, textiles and medical industries. For further information, please visit http://www.xrite.com.
About Pantone
Pantone LLC, a wholly owned subsidiary of X-Rite, Incorporated, has been the world's color authority for nearly 50 years, providing design professionals with products and services for the colorful exploration and expression of creativity. Always a source for color inspiration, Pantone also offers paint and designer-inspired products and services for consumers. More information is available at http://www.pantone.com.
©2017 X-Rite, Inc. All rights reserved. X-Rite is a registered trademark of X-Rite, Inc. PANTONE®, PantoneLIVE and other Pantone trademarks are the property of Pantone LLC. All other trademarks or registered trademarks are the property of their respective owners. Pantone is a wholly owned subsidiary of X-Rite, Incorporated. Licensed under Sun Chemical Corporation. Sun Chemical's patented technology enables the communication of a consistent, digital description of the desired appearance of a product. – [U.S. Patent Nos. 7,034,960; 7,202,976; 7,268,918; 7,417,764 and their foreign equivalents]. © Pantone LLC, 2016. All rights reserved.