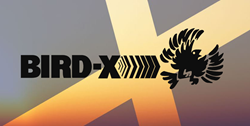 (PRWEB) August 28, 2017
The industry leader in humane bird control, Bird-X, updated their blog recently, outlining various success stories from the commercial sales team in their Chicago office. The blog post comes from Rachel Cable, the Content Marketing Manager of Bird-X Group of Companies, who interviewed each salesperson to get the latest from the team of Bird Control experts.
The blog highlights money-saving methods of bird abatement, from outdoor lasers to four-speaker sonic devices, helping companies avoid high maintenance costs, and in salesman Dan Hall's case, he helped an offshore oil rig in Texas avoid a $500 million problem.
Effective and safe methods of bird abatement are further discussed in the blog, including ultrasonic electronic deterrents and bird netting.
Bird-X, Inc. has spent over 50 years protecting public areas from over 60 bird-spread transmissible diseases. The leading international brand of humane bird control solutions, this Chicago-based company manufactures a complete line of unique bird control products, protecting the health of humans, wildlife, and the environment by deterring birds from unwanted areas without harming them.
For information on any of Bird-X's humane pest control products, please call customer service at (800) 662-5021.