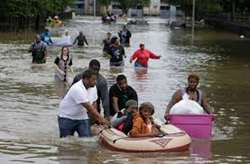 Members of the Houston community can use a self-directed IRA platform to help their friends and family rebuild after the devastation from water damages
New York, NY (PRWEB) August 28, 2017
IRA Financial Group, the leading provider of self-directed IRA LLC and Solo 401(k) Plans, anticipates the use of the self-directed IRA platform as an attractive funding option for Texas flood victims. As a result of the recent enormous devastation caused by floods in Texas, many Americans will need to access some of their retirement funds in order to help pay for some of the damage caused by the storm", stated Mr. Bergman." Members of the Houston community can use a self-directed IRA platform to help their friends and family rebuild after the devastation from water damages, " stated Mr. Bergman.
The primary advantage of using a Self Directed IRA LLC to make investments is that all income and gains associated with the IRA investment grow tax-deferred. The Internal Revenue Code does not describe what a self-directed IRA can invest in, only what it cannot invest in. Internal Revenue Code Sections 408 & 4975 prohibits Disqualified Persons from engaging in certain type of transactions. The rules prohibit transactions between the IRA and certain individuals known as "disqualified persons". "Thus, a self-directed IRA can be used lend funds to anyone other than a disqualified person, which is essentially a lineal descendant of the IRA holder." Stated Mr. Bergman
IRA Financial Group's Self-Directed IRA LLC for hard money loan investors, is an IRS approved structure that allows one to use their retirement funds to make hard money loans and other investments tax-free and without custodian consent. The Self-Directed IRA LLC involves the establishment of a limited liability company ("LLC") that is owned by the IRA (care of the IRA custodian) and managed by the IRA holder or any third-party. As manager of the IRA LLC, the IRA owner will have control over the IRA assets to make traditional as well as non-traditional investments, such as real estate.
IRA Financial Group is the market's leading provider of self-directed retirement plans. IRA Financial Group has helped thousands of clients take back control over their retirement funds while gaining the ability to invest in almost any type of investment, including real estate without custodian consent.
The IRA Financial Trust Company, a self-directed IRA custodian, was founded by Adam Bergman, a partner with the IRA Financial Group.
Adam Bergman, IRA Financial Group partner, has written six books the topic of self-directed retirement plans, including, "The Checkbook IRA", "Going Solo," Turning Retirement Funds into Start-Up Dreams, Solo 401(k) Plan in a Nutshell, Self-Directed IRA in a Nutshell, and in God We Trust in Roth We Prosper.
To learn more about the IRA Financial Group please visit our website at http://www.irafinancialgroup.com or call 800-472-0646.