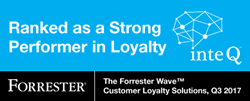 Forrester also stated that Inte Q customers "find Inte Q to be a responsive strategic partner" and "smart, humble, and enjoyable to work with."
Chicago, IL (PRWEB) August 30, 2017
Inte Q, a leader in CRM, loyalty, and paid tier programs is proud to announce that they have been rated a 'Strong Performer' by Forrester Research in the recently released report, The Forrester Wave™: Customer Loyalty Solutions, Q3 2017.
The report calls to attention that Inte Q has revamped nearly their entire business. "Change is the name of the game for Inte Q…all of this transformation gives Inte Q a more focused position in the market," stated Forrester. Over the last year, Inte Q has hired a new CMO and COO, and pivoted its offering from a largely customized, full-service one to a more productized one focused on delivering paid-tier loyalty programs at zero cost to brands.
By overhauling the go-to-market message to focus on creating "Customer Love" and launching a proprietary "Customer Love Score," Inte Q is able to help brands track against transactional, emotional, and brand measures. Inte Q is one of only four vendors cited by Forrester that have developed or are developing frameworks to help clients design programs that address and measure the impact of customer emotion.
Forrester also stated that Inte Q's customers "find Inte Q to be a responsive strategic partner" and one client described Inte Q's people as "smart, humble, and enjoyable to work with."
"Our biggest strength lies in our ability to relate to and understand our clients and their customers. By adding individuals to our team with extensive experience on both the vendor and client side, we understand how to make client relationships work really well," stated Chris Duncan, Chief Marketing Officer of Inte Q. "I could not be more proud of our company for this significant accomplishment and recognition. We have worked extremely hard to be at the forefront of developments in our industry and are enthusiastic about bringing the "Customer Love Score" to the marketplace."
Read the full Forrester Wave™ Report and the rankings for each loyalty service provider.
About Inte Q
Inte Q builds marketing programs that enhance customer retention, strengthen brand loyalty and drive incremental customer engagement. With over 35 years in the loyalty marketing business, Inte Q is a marketing leader focused on loyalty and CRM programs, paid-tier loyalty programs, marketing strategy, analytics, engagement benefits and platform services. With offices in the US and London, Inte Q serves clients in the retail, financial services and travel/hospitality industries. For additional information, please visit http://www.inteqinsights.com.