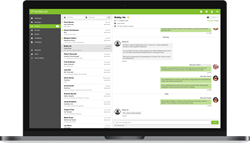 "With only 33% of companies focusing on mobile in their recruiting workflow, it's no surprise that unfilled job openings are at an all time high. Employers are not connecting with their talent base."
San Jose, CA (PRWEB) August 29, 2017
TextRecruit, Inc. has announced the release of a new all-in-one platform that uses text message, live chat, and artificial intelligence to help large employers attract, recruit and engage their people.
"Six Flags gets a lot of younger generations applying for their first job so we wanted to give text messages a try," said Lisa Bruce, Recruiter at Six Flags. "With TextRecruit, we receive more responses, in less time when reaching out to applicants for an interview. Increasing our turnaround time from application to hire is great for us and the applicant."
In this new platform release, TextRecruit will broaden its reach into attracting candidates and engaging existing employees while leveraging partner integrations and artificial intelligence in workflows.
The TextRecruit platform includes:

JobChat: A live chat agent that sits on career sites and job advertisements, and lets job seekers chat directly with recruiting teams
TextApply: Short codes that allow job seekers to apply to job openings over text message
TextRecruit: Software that recruiters can use to manage all candidate conversations happening over text message and live chat
TextHR: Software that human resources will use to assist with onboarding, benefits, emergency services
Ari: A configurable chatbot that represents the customer's brand and engages candidates through the hiring lifecycle.
"Businesses are failing to communicate with their candidates," said Erik Kostelnik, Co-founder of TextRecruit and recent winner of the San Francisco Business Times' Upstart 50, "With only 33% of companies focusing on mobile in their recruiting workflow, it's no surprise that unfilled job openings are at an all time high. Employers are not connecting with their talent base."
TextRecruit now helps over 300 customers leverage text message, live chat, and artificial intelligence to engage candidates and employees. Employers like Whole Foods, UPS, Cracker Barrel and CDW have successfully used the TextRecruit platform to communicate with over 2% of the U.S. labor force in the last 20 months.
"In Q1 alone we saved 100 hours of recruiter productivity," said Jared Bazzell, Talent Acquisition Manager at CDW. "That is time that our recruiters were able to reinvest back into talking with candidates and sourcing talent."
About TextRecruit: TextRecruit is a candidate engagement platform that leverages text message, live chat, and artificial intelligence to help companies hire better people, faster. Powered by analytics, personalization, campaigns, and integrations, this is the most effective engagement software for recruiting and HR on the planet. Whole Foods, UPS, Kindred Healthcare and hundreds of other companies trust TextRecruit to get the talent they need. For more information, follow us at @TextRecruit or visit us at http://www.textrecruit.com.
Media Contact:
Birch Faber
Marketing Director
323-440-4049
birch(at)textrecruit(dot)com