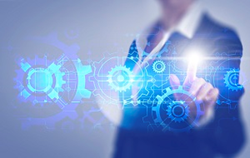 Boulder, Colo. (PRWEB) August 29, 2017
Enterprise Management Associates (EMA), a leading IT and data management research and consulting firm, today announced it will host a webinar titled "Five Critical Steps to Achieve Successful Digital Transformation," featuring Dennis Drogseth, VP of research at EMA, and Sameer Padhye, CEO at FixStream.
Many IT organizations are struggling to implement their digital transformation strategy while migrating to hybrid cloud as they face pressures for increased transparency, efficiency and relevance.
During this webinar, Drogseth and Padhye will outline the reasons behind these transformational challenges and the strategy to overcome them, as well as provide insights on:

What digital transformation is really about, and how it is linked to IT transformation
Why so many IT organizations are struggling and, in some cases, simply failing to adapt to the demands of digital and cloud
Why ERP applications and other enterprise business services are particularly at risk
The symptoms of failure, as well as the patterns of success
A compare-and-contrast between traditional ways of working and a model for effective advanced analytic adoptions
An in-depth customer case study
The webinar is Wednesday, September 6 at 1:00 p.m. Eastern. Those who wish to attend can register at: http://research.enterprisemanagement.com/5-critical-steps-to-achieve-successful-digital-transformation-webinar-pr.html
About EMA
Founded in 1996, EMA is a leading industry analyst firm that specializes in providing deep insight across the full spectrum of IT and data management technologies. EMA analysts leverage a unique combination of practical experience, insight into industry best practices, and in-depth knowledge of current and planned vendor solutions to help clients achieve their goals. Learn more about EMA research, analysis, and consulting services for enterprise line of business users, IT professionals and IT vendors at http://www.enterprisemanagement.com or blogs.enterprisemanagement.com.