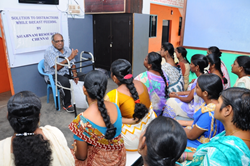 The Shabnam Program is part of Praeclarus Press' commitment to giving back to the community
Amarillo, TX (PRWEB) August 30, 2017
The World Health Organization estimates that only 40% of infants under six months old breastfeed exclusively, and about 820,000 child lives would be saved every year if breastfeeding were the universal exclusive method. In recent years, Praeclarus Press and Shabnam Resources have teamed up to bring breastfeeding awareness programs to communities living in extreme poverty. Over those years, Shabnam Executive Director Michael Hubert has discovered that these new mothers desire education focused on the distractions that lead to breastfeeding issues and want solutions to these distractions.
Throughout the process of finding solutions to breastfeeding distractions, small groups of support formed as a focused program within the larger picture of breastfeeding education. This focused program is composed of organizations and individuals who all come together to create care cells to educate and encourage new helpless mothers in poverty stricken neighborhoods. This program became a community wide effort with involvement from teachers, homemakers, nurses, and even older school-aged children. Most of these care cells are women who have already experienced the trials of motherhood and are able to provide support to these new mothers through babysitting and being pillars of moral support. The work of these care cells and this program does not stop after National Breastfeeding Month, but rather the program continues year around.
At the grassroots level of support, the care cells are just what these new mothers need to provide the distraction-free environments that will help their children feed effortlessly. On top of providing support, this program provided 86 new, poverty stricken mothers with kits that included clothes and nutritional items.
Sponsorship of this program is part of Praeclarus Press' commitment to give back to the community by supporting programs that reach out to mother and babies worldwide.
Shabnam Resources is a registered non-profit charity focusing on the welfare of children and young mothers in rural and semi-urban areas in India. Shabnam means the first refreshing rain after a dry spell. Living up to its name, For the past 9 years, Shabnam Resources continues bringing education and support to new mothers in trying situations and times.
Praeclarus Press is a small press founded by health psychologist, Dr. Kathleen Kendall-Tackett, focusing on women's health. The mission of Praeclarus Press is to publish books that change people's lives. Praeclarus Press is based in Amarillo, Texas. A portion of all sales support programs that advance the education of women's health and welfare.