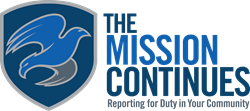 (PRWEB) August 28, 2017
On Friday, September 8th thru Monday, September 11th, post-9/11 veterans in more than 35 cities all across the country will report for duty in tribute to the 16th anniversary of September 11, 2001. The veterans are volunteers with The Mission Continues, a nonprofit organization that empowers veterans who are adjusting to life at home to find purpose through community impact.
The Mission Continues has organized United in Service, a series of service events where veterans and local volunteers will join forces to have a positive impact on tough community challenges and remember those who served and sacrificed in the wake of 9/11. Throughout the course of four days, over 35 service platoons nationwide will lead local service projects to help strengthen their communities.
"With the skills and experience they cultivated in the military, veterans are uniquely positioned to lead within their communities," said Spencer Kympton, U.S. Army veteran and president of The Mission Continues. "In remembrance of this year's anniversary of 9/11, we're planning an impactful week of service projects driven by our nation's veteran leaders." The service projects revolve around the restoration and beautification of community spaces. With the support of local partners, projects will be held in cities, such as New York, NY; Boston, MA; St Louis, MO; Chicago, IL; Washington, D.C.; Baltimore, MD; Phoenix, AZ; Los Angeles, CA: Denver, CO; and San Antonio, TX, to name a few.
Projects planned nationwide for United in Service include:

Volunteers creating a farmers market, a walking trail, and a STEM learning space
Beautifying parks, clearing brush and building out green spaces
Restoring outdoor play spaces and basketball courts at middle schools
Converting underused classrooms into reading corners to support literacy efforts
The 9/11 United in Service campaign is just one of many initiatives led by The Mission Continues that empower veterans to continue serving at home by mobilizing together and solving challenges specific to their communities. For more information on how to report for duty in communities across the country and all throughout the year, visit https://missioncontinues.org/get-involved/.
About The Mission Continues
The Mission Continues is a national nonprofit organization that empowers veterans who are adjusting to life at home to find purpose through community impact. Our operations in cities across the country deploy veteran volunteers alongside non-profit partners and community leaders to solve some of the most challenging issues facing our communities: improving community education resources, eliminating food deserts, mentoring at-risk youth and more. Through this unique model, veterans build new skills and networks that help them successfully reintegrate to life after the military while making long-term, sustainable transformations in communities and inspiring future generations to serve. To learn more, visit: http://www.missioncontinues.org or follow us on Twitter @missioncontinue.