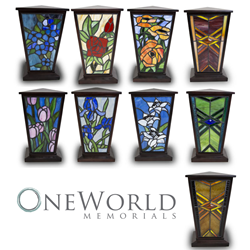 Our idea was to use the color and versatility of stained glass to elevate cremation urns and related memorials to works of art.
Saint Paul, MN (PRWEB) August 29, 2017
OneWorld Memorials is boosting its reputation as an innovative online cremation urn and memorials retailer with a new line of Tiffany-style stained glass cremation urns and keepsakes offered directly through their website and showroom.
Hand-crafted in the style of legendary stained glass artist Louis Comfort Tiffany, the OneWorld Memorials Stained Glass Collection offers a stunning array of floral and geometric patterns in color palettes ranging from deep iris blues to crisp yellows, fiery reds, and emerald greens, mimicking the natural beauty found in the petals of wildflowers and the plumage of songbirds.
Colored glass dates back to Ancient Egypt, and stained glass has been used for centuries by skilled artisans in the construction of church window murals, glass lamps, and the windows of homes and businesses. Many believe the art hit its modern peak in the work of American artist Louis Comfort Tiffany (1848-1933). Tiffany's glass mosaic lamps were so magnificent that they helped define an entire period of design. Today, they fetch premium prices in art auctions around the globe.
"Our idea was to use the color and versatility of stained glass to elevate cremation urns and memorials to works of art, while maintaining their functional purpose," says Ira Woods, President of OneWorld Memorials. "We've found that more and more consumers are seeking urns for ashes and keepsakes that not only memorialize a loved one, but contribute to the beauty and personal warmth of their homes. This new collection does both, and the initial response to them has been enthusiastic."
OneWorld Memorials had worked with stained glass in their sympathy gift collection. They knew the potential of the material to capture, project, and reflect light. But their insistence on product designs of the highest caliber meant a development process lasting nearly two years. The process complete, OneWorld made a major investment to secure the exclusive rights to these stunning products.
The results are dazzling: cremation urns for ashes, remembrance lamps and keepsakes that project light and color across a broad range of palettes. Standout choices include the Red Rose and Blue Forget-Me-Not Stained Glass Cremation Urns, the corresponding Red Rose Memory Lamp, and the Red-Orange Poppy Stained Glass Cremation Keepsake. The stained glass on the urns are constructed onto a resin case so that you cannot see into the urn itself. To view our full collection visit: OneWorld Memorials Tiffany-Style Urn and Keepsake Collection
About OneWorld Memorials
OneWorld Memorials is a leading developer and retailer of cremation urns and memorial products, including urns for ashes, cremation jewelry, remembrance and sympathy gifts, pet cremation urns, and memorial keepsakes. OneWorld delivers value to the consumer by offering products of exceptional craftsmanship at prices that fit every budget.
Visit: https://oneworldmemorials.com