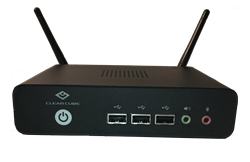 "Customers love the ZERO+ Client's flexibility and how it can integrate into VMware environments with PCoIP or Blast Extreme, and into CITRIX HDX environments," said Doug Layne, Global Vice President of Sales at ClearCube Technology
AUSTIN, TX (PRWEB) August 29, 2017
ClearCube® Technology, Inc. today announced the release of a new zero client providing a variety of connection protocols for secure connectivity to remote virtual machines and traditional computers. The new ClearCube CD5011 ZERO+ Client provides all the benefits of ClearCube Zero Clients with a virus-proof, no-app operating system and a selection of remote connection protocols.
The CD5011 ZERO+ Client, with Intel® Celeron® N2807 Dual-Core processors (with burst frequency up to 2.16 GHz), Intel® HD graphics, H.264 decoder, and up to 8 GB DDR3L RAM, provides high-quality multimedia and PC-like user experience even in virtual desktop deployments. Task and knowledge workers can use CD5011 to work in Full HD on up to two DVI monitors at 1920 × 1200 resolution. The CD5011 ZERO+ Client is ENERGY STAR® 6.1 compliant and consumes less than five watts on average. An optional WiFi module enables users to make full use of their systems even when installed in areas without LAN connectivity.
ZERO+ Clients provide users with multiple connection protocol options. "The ZERO+ Client gives our customers the data security they've come to expect from traditional zero clients," said Doug Layne, Global Vice President of Sales at ClearCube Technology. "Customers love the ZERO+ Client's flexibility and how it can integrate into VMware environments with PCoIP or Blast Extreme, and into CITRIX HDX environments," he said. "The choice of connection protocols that the ZERO+ Client provides is above and beyond what traditional zero clients offer."
Performance and security are enhanced by the on-board, 4-GB eMMC storage media. eMMC storage replaces traditional SATA DOMs and is integrated into the zero client in a secure, non-removable package. ZERO+ Clients improve data and hardware security in any environment by eliminating removable media and hosting the minimal zero client OS in volatile memory—which only maintains data while the device is powered on. This minimizes opportunities for theft and misuse of data and zero clients. Deployment options also include network booting the CD5011, rather than installing an operating system on the device, for traditional zero client security.
CD5011 ZERO+ Clients use ClearCube's Cloud Desktop OS. ClearCube's Cloud Desktop platform simplifies zero client deployments and minimizes the complexities of and risks of switching to VDI environments. The Cloud Desktop platform makes it fast and easy for organizations of all sizes to immediately benefit from VDI client computing. Organizations can use Cloud Desktop OS at all stages of VDI deployments—from re-purposing existing desktops as thin clients, to powering zero clients, to supporting ClearCube thin clients.
ClearCube's Cloud Desktop Management solution provides Administrators with a browser-based interface for client grouping, client configuration inheritance, and automatic client updates over the network. Centralizing thin client management with Cloud Desktop Management enables Administrators to reduce costs, improve asset management, accelerate application deployment, and much more.
For more information, contact ClearCube Technology at http://www.clearcube.com.
Press Contact
Doug Layne
VP of Global Sales
512-652-3410
Doug.layne(at)clearcube(dot)com
About ClearCube Technology
ClearCube Technology, an American manufacturer, is a recognized technology leader in centralized computing and desktop virtualization markets. ClearCube develops specialized VDI thin and zero clients that connect to optimized SmartVDI compute/storage host platforms for task/knowledge users and PCoIP Blade PCs for power and highly-specialized users. End points include Raspberry Pi thin clients, x86-based thin clients in a variety of configurations, VMware Blast Extreme ZERO+ clients, TEMPEST zero clients, copper/fiber connected clients, and multi-level security zero clients. ClearCube has developed and deployed thousands of high performance remote workstations that power trading floors, network operations centers, and command and control rooms around the globe. ClearCube's widespread adoption at thousands of federal and commercial locations is based on our ability to meet cost savings and security requirements for all use cases involving centralization and virtualization initiatives.