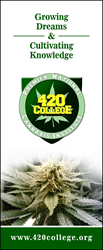 420 College is Cultivating Knowledge all over California.
Fresno, Ca (PRWEB) August 29, 2017
420 College, a company on a mission to promote legal cannabis cultivation, distribution and use, obtains six legal government permits for students.
Four students have secured 22,000 square feet of cultivation licensing each, and one student received a permit to grow legal cannabis on 5,000 square feet of space. Also very proud to announce our Founder & CEO, George Boyadjian, has received a permit to grow cannabis on a 22,000 square foot area in California City as well.
A total of 115,000 square feet of government issued licensing to grow "legal cannabis," on a full 1.5 city blocks, is coming to the California market from California City in eastern Kern County.
George Boyadjian, Founder & CEO stated, "The permitting process took a little over a month. We had multiple meeting with California City officials and Fire chief; we also had a meetings with the community. This is where the members of the community we asked to come in and ask questions and meet the potential licensees."
George Boyadjian and 420 College have been training students to cultivate, distribute and use legal cannabis, with government approvals, since 2009.
They are currently serving customers in over 35 jurisdictions all across California. Offering hand on continual education training courses for career oriented individuals seeking to start and grow their cannabis business.
George Boyadjian said, "we have helped hundreds of folks looking into getting in the industry to apply for and obtain cannabis cultivation and dispensary permits across California, Oregon, and Washington."
420 College will be hosting a cannabis business regulations seminar in Sacramento on September 16th & 17th. Among some speakers will be 420 College attorney, accountant, insurance agent and other cannabis business professionals.