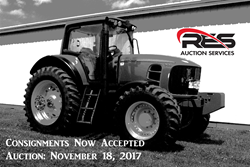 We have chosen to make an significant and meaningful investment back into our community
Wooster, Ohio (PRWEB) August 30, 2017
RES Auction Services recently announced the opening of a new auction facility and equipment yard at 375 Fry Road in Wooster, Ohio (corner of Fry Road & US 30). The inaugural equipment auction is set for November 18, 2017 at 10 AM. The site work and construction has begun and is slated for completion by October 1. Located west of Wooster with frontage on US 30, the yard will feature loading areas, offices and large display areas for equipment. All Items will be sold live, onsite with online bidding allowing for national reach to the local market.
"RES has long served sellers by offering auctions on their site or farm and will continue to do so. With this new facility we are excited to offer our full range of services to clients large and small with a regular and consistent auction market," stated RES Co-owner Andy White. "For a farmer looking to sell a single piece or a contractor looking to move an entire line of equipment RES now has all the auction options."
The auction will feature tractors, agricultural implements as well as heavy and construction equipment and related items. Consignments are currently being accepted. "For over 40 years members of the RES Auction Services team are recognized names in the sale of Real Estate including farms and agricultural land and often the equipment that goes with it," remarked RES Auctioneer and Broker Seth Andrews. "This new yard will allow us to better serve all of Northeast Ohio."
The Wooster location coupled with online bidding will make it easy for anyone from anywhere find and participate in the auction. High visibility and easy access of the Wooster location will be a tremendous value to for clients and customers. "RES has always been a full service Auction company for our local area. Today we have chosen to make a significant and meaningful investment back into our community and provide a consistent and reliable auction platform," remarked RES Co-owner Joseph Mast.
RES Auction Services is a family owned, Ohio based team of auctioneers and auction marketing professionals serving clients in Ohio and around the Midwest. Specializing in the sale of Agricultural (Farm) Land, Heavy, Agricultural and Industrial Equipment, Residential and Commercial Real Estate and other high value assets. RES has over 25 auctioneers and staff working out of offices in Millersburg, Ashland, Wooster, Anna(Sidney), and Columbus, Ohio and conducts auctions weekly. RES Auctioneers are members of the National Auctioneers Association, Ohio Auctioneers Association and have collectively won 21 National and State Auctioneer Awards and championships.