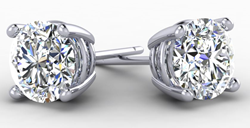 The luxury shopper wants and deserves choices.
Washington, DC (PRWEB) August 29, 2017
While lab-grown diamonds are seen as heresy to many old time diamantaires, Mervis Diamond Importers in Washington, DC has introduced lab-grown diamonds at all locations this month, for the first time in its history. The company embraces the new technology as another option for today's shopper. Appealing to an environmentally-conscious consumer, a man-made diamond is roughly 30% larger than its natural counterpart at the same price.
As the leading diamond jeweler the Washington region, Mervis has built its reputation on personalized service and knowledgeable staff. "It's always been our mission to provide an education and full service experience to our clients, helping each couple find the right diamond for them. Today's addition of man-made diamonds to our inventory gives our shopper added confidence that she's seen everything." says Jonathan Mervis, Vice President of Client Experience.
While all natural diamonds at Mervis are certified conflict-free, the company reports consumer demand for a lab-grown option free of any conflicts overseas. The lab-grown diamonds at Mervis are grown locally in Maryland, giving new meaning to 'shopping local.' The collection features a full range of the popular diamond shapes and sizes.
Despite the lab grown hype, the romantic symbolism of a diamond that was formed over a billion years ago isn't about to go away anytime soon. Jonathan Mervis explains, "man-made diamonds aren't for everyone. Most of our clients tell us they want the 'real' thing." The company views the market for man-made diamonds as a niche audience. Without judgement or pushing clients in either direction, Mervis will cater to both the natural and man-made diamond client.
"We're on K Street in Washington, DC after all. If we couldn't professionally serve two different groups with opposite opinions, we'd have far greater troubles!" quips Jonathan Mervis.
The lab grown diamonds will be accompanied by a grading report and laser inscribed as lab grown. They will be clearly distinguished as such and are available in all Mervis stores in Washington, DC, Rockville, MD and Tysons, VA..
Mervis Diamond Importers began in 1935 near the diamond mining areas of South Africa. The company imports the finest quality diamonds, giving the consumer the benefit of price and quality. Mervis is a proud recipient of the Hall of Fame award from The Knot for exceptional customer service in the wedding industry.