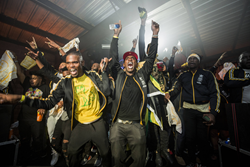 Atlanta, GA (PRWEB) August 29, 2017
RED BULL CULTURE CLASH ATLANTA
4 Stages - 4 Crews - 1 Winner
UNRULY WIN THE FIRST CULTURE CLASH ATLANTA
The Jamaican Crew Beat Crews Led By Mike WiLL Made-It, WondaGurl & Tinie Tempah To Claim The Title
Guests Included Jermaine Dupri, Rae Sremmurd, Pusha-T And Ludacris, TI & Many More
http://RedBull.com/CultureClash
Atlanta, GA (August 28, 2017)—The world's biggest music battle made its debut in Atlanta on Friday, August 25. Inspired by Jamaican sound clashes, the Atlanta installment took place at 787 Windsor and featured four of the top crews from around the globe—Atlanta's own Mike WiLL Made-It leading his EarDrummers crew, Canada's Enjoylife led by WondaGurl, the UK's Disturbing London led by Tinie Tempah, and Jamaica's Unruly—which was led in spirit by Popcaan though he was unable to be at the event.
The crews pulled out all the stops—from EarDrummers bringing out Pusha-T, Ludacris, Crime Mob, Fabo and Sah Babii, to Disturbing London's "Shape of You" dubplate and special guests including Charlie Sloth, Pastor Troy and Atlantian TI crossing enemy lines and repping for the UK crew via video, to Enjoylife bringing out Rich Kidd and dropping some Drake to Unruly's mic drop: bringing out Atlanta music royalty Jermaine Dupri—the night was filled with unforgettable surprises. After four rounds of intense competition, Unruly edged out hometown favorites EarDrummers to win the crowd's support and proved victorious.
Red Bull Culture Clash Atlanta 2017 was streamed live exclusively on Red Bull Radio. Photos for editorial use from can be found via the Red Bull Content Pool here: https://www.redbullcontentpool.com/international/AP-1SZFBVHQW1W11.
ROUND 1: TEMPERATURE'S RISING
The crew DJs kicked off the night, warming up the crowd and establishing who they are. EarDrummers went first with a Lil Jon dub and brought out Atlanta Braves jersey-wearing superstars Rae Sremmurd. Unruly followed with a crowd sing-a-long before WondaGurl came out and dropped Future's "Wicked." Disturbing London closed out the round with Charlie Sloth smack-talking and a fierce "Shape of You" dub. The winner of round 1 is… No one! (Round one is a freebie and not worth any points.)
ROUND 2: THE SELECTOR
Unruly kicked off Round 2, where DJs spin everything they got and the winner is selected by song choices and smack talk. The Jamaicans had everything from phones, flags and extinguishers out for them this round. Enjoylife busted out a track from the king of Toronto and WondaGurl collaborator Drake before Disturbing London played a video from TI rooting them on, showing EarDrummers that Atlanta's finest are willing to rep for their favorite crews and not necessarily their hometown ones. Not to worry though: EarDrummers quickly bounced back, bringing out Pusha T, OJ Da Juiceman and more and claiming Round 2 victory! (1 Point: EarDrummers)
ROUND 3: SLEEPING WITH THE ENEMY
The third round shook things up and saw each crew assigned another crew's style and the winner needs to beat them at their own game. Enjoylife kicked off the round, playing some of Jamaica's finest: Barrington Levy and Beenie Man. Disturbing London quickly followed by bringing out Sonny Digital, one of Atlanta's brightest young hip-hop producers. Another Atlantian crossing lines for other crews… ouch! Mike WiLL couldn't be deterred and sent a very clear message to the crews with guest Ludacris and his 2001 megahit "Move B*tch." How could Unruly beat that? Two words: Jermaine Dupri. With this Atlanta music icon on Team Unruly, they came back from behind to take Round 3. (1 Point: Unruly)
ROUND 4: THE DECIDER
The final round gave each crew a chance to play their biggest hits and call in all of their favors. Disturbing London kicked off the round with coffins and the Ying Yang Twins. Next up, Unruly's arsenal ran deep with a Gorillaz video appearance and dubs galore, including Young MA and "Wild Thoughts" dub. Enjoylife brought out one more of Toronto's best, Rich Kidd, and Mike WiLL and EarDrummers closed out the night with dollar bills flying and Junior Reid on the mic.
After the crowd's cheers were tallied, the winner of Round 4 and Red Bull Culture Clash Atlanta was Unruly (4 points total), making their home country proud as they victoriously carried on the Jamaican sound clash tradition.
###
About Red Bull Music Academy
The Red Bull Music Academy is a global music institution committed to fostering creativity in music. We celebrate music, its culture, and the transformative minds behind it. Since 1998, the Academy has taken the core principles from its annual workshop for selected participants and applied this curatorial approach to events, lectures, and citywide festivals throughout the year.
20 years after the first edition in Berlin, the Red Bull Music Academy will return to the German capital in 2018. Music-makers from all over the world are invited to apply between June 15 and September 4, 2017 at apply.redbullmusicacademy.com.
More than 1,500 musical luminaries have participated in past incarnations of the Red Bull Music Academy. Former lecturers include Brian Eno, Philip Glass, Erykah Badu, Ryuichi Sakamoto, D'Angelo, George Clinton, Nile Rodgers, Frankie Knuckles, Giorgio Moroder, Questlove, Steven O'Malley, Rakim, RZA, Steve Reich, M.I.A., and pioneering synth inventors Bob Moog, Tom Oberheim, Don Buchla, Roger Linn, Dave Smith, amongst many others. Plenty Academy alumni have gone on to become true figureheads of their scenes like LA soul singer Aloe Blacc; experimental electronic music producer and beat music innovator Flying Lotus; Hudson Mohawke, the Scottish producer behind the beats of Drake and Kanye West; and UK singer Katy B, who championed the sound of London's dubstep, funky and garage. Other notable alumni include Nina Kraviz, Jamie Woon, TOKiMONSTA, Jackmaster, Andreya Triana, Axel Boman, Evian Christ, Deradoorian, Objekt, Onra, and Krystal Klear.
The Red Bull Music Academy has been pairing music legends and emerging beatsmiths since 1998 in cities such as Berlin, Cape Town, Melbourne, Barcelona, Rome, São Paulo, London, Tokyo and New York City. This unique combination of old school knowledge and new school sounds is unrivalled for its creative exploration and achievement. Each Academy edition leaves behind structures to encourage musical collaboration and creative exchange for years to come. Currently there are twelve fully equipped Red Bull Studios around the world.
Join the Conversation
facebook.com/RedBullMusicAcademy
twitter.com/RBMA
instagram.com/rbma
#RBMA @RBMA
About Red Bull Radio
Since its first broadcast in 2005, Red Bull Radio has grown into a leading destination for music discovery, offering an unrivaled selection of in-depth interviews with the great musical thinkers of our time, exclusive mixes, documentaries, broadcasts from clubs and festivals and daily reports from the most exciting music scenes around the world. Red Bull Radio is a 24-hour linear broadcasting service that brings local music scenes to a global audience, with programming from 40 countries and shows hosted by a globe-spanning network of music journalists, artists and collectives, including the likes of Earl Sweatshirt, Tune-Yards, Dam-Funk, Chelsea Wolfe, The Gaslamp Killer, Gerd Janson, Stephen O'Malley, Nina Las Vegas, Mixpak, Teklife, Awful Records and many more. http://www.redbullradio.com
Join the Conversation
facebook.com/RedBullRadio
twitter.com/RBMARadio
instagram.com/redbullradio
http://www.RedBull.com/CultureClash
#CultureClash
For additional information on Red Bull Culture Clash Atlanta, contact:
Stacey Gamble / Red Bull Media House
Stacey.Gamble@us.redbullmediahouse.com - 770.626.6201
Shazila Mohammed / MotormouthMedia
shazila@motormouthmedia.com - 917.697.9996
Evan Seymour / The Purple Agency
evan@thepurpleagency.com - 626.344.6131