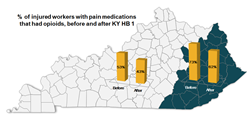 Cambridge, MA (PRWEB) August 29, 2017
Fewer injured workers in Kentucky with pain medications received opioids, and they received smaller amounts on average after the implementation of Kentucky's House Bill (HB) 1, according to a new study from the Workers Compensation Research Institute (WCRI).
The study, Impact of Kentucky Opioid Reforms, examined the impact of Kentucky's HB 1 on opioid dispensing to newly injured worker in the first 12 months after the injury. The legislation, which went into effect on July 1, 2012, regulated pain clinics and established standards for dispensing and prescribing of opioids, including mandating prescribers to query the state prescription drug monitoring program prior to prescribing opioids.
"The findings of this study are based on Kentucky data, but the lessons may be useful for policymakers and stakeholders in other states who are considering policy solutions to address prescription opioid utilization in their jurisdictions, while balancing the needs of patients who may need opioids for pain management," said John Ruser, WCRI's president and CEO.
The following are among the study's major findings:

The proportion of Kentucky workers with pain medications who received opioids in the first 12 months after injury decreased from 54 percent pre-HB 1 to 44 percent post-HB 1. Over the same period, this measure changed little in neighboring states without similar reforms.
Larger reductions in opioid dispensing were seen among those who did not have a major surgery compared to those who did; those who sustained back sprains and strains compared to those with fractures; and younger workers (25-39 years old) compared to older workers. For example, 94 and 93 percent of Kentucky injured workers with a major surgery who had pain medications received opioids pre- and post- HB 1. Whereas the measure decreased from 48 to 35 percent among injured workers without a major surgery.
Post-HB 1, we continued to see a higher rate of opioid dispensing to injured workers residing in Eastern Kentucky (Appalachian region)―62 percent of Eastern Kentucky injured workers with pain medications received opioids compared with 43 percent among those residing in other regions.
After HB 1, the percentage of Kentucky workers injured in 2013 with pain medications that received only non-opioid analgesics increased by 10 percentage points, while the percentage with pain medications receiving opioid and non-opioid analgesics together and only opioids decreased by 5 percentage points each.
The findings are based on data comprising over 21,000 Kentucky workers' compensation claims with injuries from January 1, 2011, to December 31, 2013, and nearly 91,000 prescriptions associated with those claims. The prescription utilization of each worker was observed for 12 months following the date of injury. Injury year 2011 represents the experience of injured workers prior to the effective date of HB 1, and 2013 represents the experience immediately after the implementation of the reforms. 2012 is partially post-reform. The data included represent 44 percent of workers' compensation claims in Kentucky.
To learn more about this study or to purchase a copy, visit https://www.wcrinet.org/reports/impact-of-kentucky-opioid-reforms.
The Cambridge-based WCRI is recognized as a leader in providing high-quality, objective information about public policy issues involving workers' compensation systems.
ABOUT WCRI:
The Workers Compensation Research Institute (WCRI) is an independent, not-for-profit research organization based in Cambridge, MA. Organized in 1983, the Institute does not take positions on the issues it researches; rather, it provides information obtained through studies and data collection efforts, which conform to recognized scientific methods. Objectivity is further ensured through rigorous, unbiased peer review procedures. WCRI's diverse membership includes employers; insurers; governmental entities; managed care companies; health care providers; insurance regulators; state labor organizations; and state administrative agencies in the U.S., Canada, Australia, and New Zealand.