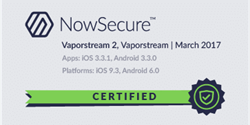 With security at the forefront of our platform, we know that in order to provide the best possible security to our clients, we must have third party validation.
CHICAGO (PRWEB) August 29, 2017
Vaporstream, a leading provider of secure, ephemeral and compliant messaging, today announced it has earned a NowSecure certification for the second year in a row. After a rigorous assessment, the top expert resource for mobile app security testing asserts its confidence in Vaporstream, the first secure messaging app to announce a NowSecure certification. To read NowSecure's case study on how it used advanced tools and expertise for ethical hacking to test Vaporstream, click here.
"Testing of the Vaporstream app shows that their development team is highly advanced when it comes to security," says Katie Strzempka, vice president of customer success and services, who leads the NowSecure services team. "We found that they have strong and effective secure coding practices and multiple layers of security — things that go above and beyond the norm."
To earn its certification, the NowSecure mobile app penetration testers conducted a comprehensive assessment of Vaporstream's app. Through a complete battery of static, dynamic and behavioral analysis, the team of NowSecure security experts examined numerous risk vectors including whether the app stores sensitive data on a device, properly encrypts data transmitted over the network, and stores data securely via back-end services. In addition, via code analysis and reverse engineering, they investigated whether additional vulnerabilities exist in the code itself. After this rigorous assessment, NowSecure ensures the Vaporstream mobile app does not store sensitive mobile data anywhere on the device, including in app folders, in the iOS Keychain, in logs, on the SD card, or elsewhere. The Vaporstream app was tested for iOS and Android.
"With security at the forefront of our platform, we know that in order to provide the best possible security to our clients, we must have third party validation," said Galina Datskovsky, CEO of Vaporstream. "Because of NowSecure's excellent reputation in this marketplace, with customers ranging from EY to EMC and Capital One, engaging in its ethical hacking to test our technology was a clear choice."
Vaporstream Secures Communications in Regulated Industries
From healthcare to financial services, industries across the nation are facing stricter standards when it comes to privacy and security. However, there is also mounting pressure across all organizations to improve efficiency and productivity. As a result, many employees in regulated industries have turned to SMS messaging, whether mandated or not, despite the growing cybersecurity threats on native text messaging. While the convenience and efficiency do not outweigh the risk of cyberattacks and compliance violations, there is a way to have both.
According to NowSecure, Vaporstream empowers compliance teams in regulated industries to leverage the conveniences of mobile messaging while still fulfilling security, compliance and record-keeping requirements.
"We're breaking the barrier of suspicion and bringing real value into very important industries that were barred from using mobile messaging in the past," said Avi Elkoni, chief technology officer of Vaporstream. "I'm proud that we've built an app that rises to that challenge and, with help from NowSecure, assures the marketplace that they are looking at a strong, cutting-edge solution that can meet their compliance needs."
###
About Vaporstream 
Chicago-based Vaporstream provides secure, ephemeral and compliant messaging for the enterprise. Vaporstream is built by compliance and security experts with over 30 years of experience in security, privacy and compliance, and empower business professionals to communicate at the speed of business, and with confidence. With customers representing Healthcare, Financial Services, Higher Education, Legal, Media and others, as well as a growing partner network, it offers a secure messaging solution that uniquely solves efficiency, communication, compliance and incident response challenges faced by society as it increasingly goes mobile. For more info, visit: http://www.vaporstream.com and follow us on Twitter @Vaporstream.
About NowSecure
NowSecure is the mobile app security software and services company trusted by the world's most demanding organizations and most advanced security teams. Only the NowSecure Platform delivers fully automated 360-degree coverage of mobile app security testing with the speed, accuracy, and efficiency that the modern enterprise demands. Staffed by advanced mobile security experts, NowSecure Services provides comprehensive mobile app security testing program development, penetration testing and training services to meet critical business security needs. NowSecure identifies the broadest array of security threats, compliance gaps, and privacy issues in custom-developed, commercial, and business-critical mobile apps through superior testing and analysis across multiple deployment models. More enterprises and government agencies trust NowSecure as the fastest path to deeper mobile app security testing and certification than any other. For more information about NowSecure, visit https://www.nowsecure.com.