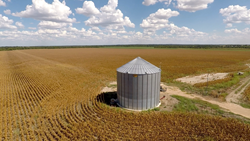 We are excited to offer these three farms to the public, with 11 total tracts
Kansas City, Mo (PRWEB) August 29, 2017
Buyers have the opportunity to bid on of three farms totaling 1,284± acres located in Milam and Falls County, Texas. United Country | Coleman and Patterson will offer the real estate to the highest bidders during a live event on September 29 at 10 am, registration starts at 9 am. The live event will be held at the Marak Parish Hall, 6633 FM 2269, Buckholts, TX 76518. A preview of the real estate will be conducted on September 15 from 8 am to noon, an auction representative will be available at each farm.
"We believe that auctions are one of the best ways to bring properties to the public," said David Coleman auctioneer with United Country | Coleman and Patterson. "The auction format allows qualified buyers the opportunity to see the available properties and determine their current fair market values through the bidding process."
"We are excited to offer these three farms to the public," Coleman said. The real estate is being offered as 11 total tracts. Farm 1 is 388± acres located in Falls County, Farm 2 is 615± acres and is located in Milam County and Farm 3 is 280± acres also located in Milam County. The sellers are very motivated to divest ownership of these 3 farms.
Property details, photos, as well as terms and conditions can be found at MultiParAuction.com. David Coleman or Tom Patterson can be reached at 888-300-0005 or by email at tom(at)colemanandpatterson(dot)com.
About United Country
United Country Real Estate – a division of the United Real Estate Group – is the leading, fully integrated network of conventional and auction real estate professionals. The company has been an innovator in lifestyle and country real estate marketing since 1925. United Country supports nearly 500 offices and 5,000 real estate professionals across four continents, with a unique, comprehensive marketing program that includes the highest ranked and largest portfolios of specialty property marketing websites, the largest real estate marketing services company, an extensive buyer database of more than 550,000 opt-in buyers and exclusive global advertising of properties.
# # #