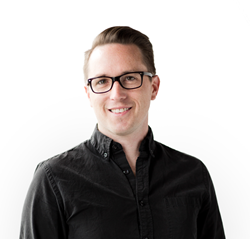 "While we've accomplished great growth and developed award-winning work over the past few years, I'm even more excited about chasing our vision for the next few years."
WINSTON-SALEM, N.C. (PRWEB) August 29, 2017
The Variable has promoted David Mullen to president, and has named him a partner in the agency. Mullen previously served as executive vice president and director of account management at the 47-person, Winston-Salem, N.C.-based advertising agency.
Mullen joined The Variable in 2013 and played a significant role in the agency quadrupling in size over the past four years, leading the charge to beat out Publicis, BBDO, Pitch (L.A.), and others in competitive pitches to earn AOR relationships and large assignments with global, national, and regional brands like Char-Broil, Merck, BASF, Procter & Gamble, Spin Master, Affordable Dentures & Implants, Duke Health, Lowes Foods, and North State.
The agency's growth, along with the brand strategy and creative work it has developed with clients during that span, helped The Variable gain attention in the national advertising scene recently, including being named Southeast Small Agency of the Year – Silver two times in the last three years by Advertising Age.
"We started pursuing David five years ago because we heard amazing things about him from anyone who had ever encountered him, and the crazy thing is that he still exceeded our high expectations from his first day with us," said Keith Vest, partner and chairman, The Variable. "We began planning the roadmap for this transition two years ago because we knew The Variable needed David at the helm to continue driving our growth trajectory and achieve the very best potential for our agency and for our clients."
Vest moves from his role as president to chairman, and will focus his time in the near term on Sunshine Beverages, the beverage company spinoff created by The Variable. Sunshine products are now sold in more than 1,600 locations, and the business took on its first outside investment recently to help capitalize and accelerate growth.
"While we've accomplished great growth and developed award-winning work over the past few years, I'm even more excited about chasing our vision for the next few years," Mullen said. "We've assembled a ridiculously talented team, changed our agency model, evolved how we partner with clients, and developed the infrastructure to create and co-create new products, services, and companies. Even greater things are ahead and I'm humbled to help lead the agency there."
Mullen becomes the third partner in the agency, along with Vest and chief creative officer Joe Parrish. Before joining The Variable, he most recently served as vice president, account director at Mullen – no relation.
About The Variable
The Variable is a reformed ad agency created by entrepreneurs, design geeks, business nerds, investment bankers, makers, client-side refugees, and big agency survivors. We love ideas that aren't homogenized, commoditized, and over-resourcized. We love thinking that hasn't been so thoroughly run through a bloated bureaucracy that all the special parts have been rubbed off. We're a nimble group of the best and brightest, brought together to make cool shit. Whether it's developing a new product innovation, a unique service offering, an unforgettable brand experience or the greatest ad campaign ever, we help our clients rethink the way they think about their marketing investment.
For more information about The Variable, visit: http://www.TheVariable.com.