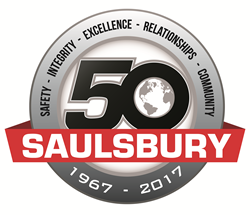 Odessa, TX (PRWEB) August 29, 2017
Saulsbury Industries announced today that SCANA awarded the company its second extension to the current Maintenance and Modification Contract (MMC), which will extend the contract to mid-2020. The extension follows the completion of the second refueling and maintenance outage with Saulsbury support earlier this year.
The project is an integral part of Saulsbury's overall Nuclear portfolio that includes maintenance services, modifications, capital projects, and decommissioning services. Saulsbury continues to expand its nuclear business, currently serving clients in South Carolina, Georgia, California and Louisiana.
South Carolina Electric & Gas Company Senior Vice President and Chief Nuclear Officer Jeff Archie said, "We are very satisfied with the services Saulsbury Industries has provided V.C. Summer over the past three years as the maintenance and modifications contractor, including support during the two most recent refueling outages. We are pleased to extend our contract with Saulsbury through mid-2020."
Saulsbury Chief Executive Officer Rick Graves stated, "We at Saulsbury are delighted to have the opportunity to continue our work with the V.C. Summer team in providing a high level of skilled personnel to provide high quality maintenance and modification services. I am proud of the relationships developed over the past three years and look forward to continued collaboration with our V.C. Summer partners. Our experienced team is entirely committed to the safety and success of V.C. Summer."
ABOUT SAULSBURY INDUSTRIES
Celebrating its 50th anniversary in 2017, Saulsbury Industries is a Family-owned Engineering, Procurement, Construction (EPC), and Maintenance contractor headquartered in Odessa, Texas. With 13 different Office locations throughout the United States and several thousand employees, Saulsbury provides engineering, construction, fabrication and maintenance services to multiple industries nationwide.