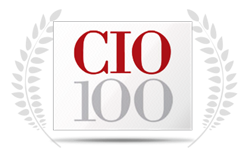 Transforming our business model from perpetual licensing to subscription-based licensing was critical for our company's success, to say the least
PALO ALTO, CA (PRWEB) August 29, 2017
Denodo, the leader in data virtualization, is proud to announce that its customer Autodesk has won the 2017 CIO100 Award. This year, CIO 100 celebrates 30 years of recognizing IT innovation and business leadership. For this year's award, CIO selected 100 organizations from a pool of hundreds of nominations, and gave special recognition to organizations that have set themselves apart by creating significant business value through the innovative use of modern technologies.
"Transforming our business model from perpetual licensing to subscription-based licensing was critical for our company's success, to say the least," said Mark Eaton, enterprise architect at Autodesk. "Creating a logical data warehouse using the Denodo Platform was pivotal in that effort, not only to keep our day-to-day business running during the change process but to integrate all new forms of data such as streaming, social media, big data, etc., which was not possible with our legacy data architecture."
Autodesk sought to fuel its business growth by transforming its business model from perpetual licensing to subscription-based licensing. However, the company realized that its business intelligence (BI) system was not built to support such a massive enterprise wide change. Autodesk's legacy operational data warehouse was unable to meet the demands of business stakeholders who required high quality, timely data. Autodesk knew that it had to move to an agile BI 2.0 architecture, with a logical data warehouse at its core, to run alongside its existing physical data warehouse. A logical data warehouse is a modern data architecture through which a logical or virtual semantic layer sits on top, integrating all the physical layers underneath.
The company implemented the logical data warehouse using the Denodo Platform, due to its strong data virtualization capabilities. The logical data warehouse ensures the continuity of both old and new BI systems, while facilitating a smooth transition from legacy systems to new systems. The project enabled Autodesk to successfully transition from its legacy perpetual licensing model to a subscription-based licensing model without affecting operations.
"Data-driven insights is changing the way business is carried out at many companies around the world," said Ravi Shankar, chief marketing officer at Denodo, "and CIO 100's recognition of Autodesk is another proof of the importance of data. The Denodo Platform has been selected by many industry giants like Autodesk to create a data fabric to stitch together big data, cloud, streaming data, and legacy data sources, so that enterprises can extract critical business insights, in real time, with ample flexibility and governance in place."
Please Tweet: News: @denodo customer @autodesk wins 2017 CIO100 Award for using #DataVirtualization 
About Denodo  
Denodo is the leader in data virtualization providing agile, high performance data integration, data abstraction, and real-time data services across the broadest range of enterprise, cloud, big data, and unstructured data sources at half the cost of traditional approaches. Denodo's customers across every major industry have gained significant business agility and ROI by enabling faster and easier access to unified business information for agile BI, big data analytics, Web, cloud integration, single-view applications, and enterprise data services. Denodo is well-funded, profitable, and privately held. For more information, visit http://www.denodo.com or call +1 877 556 2531 / +44 (0) 20 7869 8053.