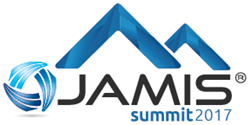 Arlington, (PRWEB) August 29, 2017
JAMIS Software Corporation announces its 2017 Summit Keynote speaker will be the Chief Executive Officer of Acumatica, Inc., the world's fastest growing Cloud ERP company, Jon Roskill. He will deliver the keynote address at the Summit on October 9, 2017, at the Mission Bay Hilton Resort and Spa in San Diego.
Before joining Acumatica, Mr. Jon Roskill held the position of Corporate Vice President of the Worldwide Partner Group at Microsoft Corporation, where he led the teams responsible for Microsoft's Worldwide Channel of 640,000 Partners, as well as associated programs & incentives. Previously, Roskill served as Corporate Vice President, Business & Marketing Organization of Microsoft North America.
"There is no one more fitting for our keynote address than Roskill. His extensive technology background and expertise, including over 25 years of experience as a leader in the software industry, make him an invaluable speaker for our 2017 Summit. We are honored he will be speaking at the 2017 JAMIS Summit," says JAMIS owner and CEO, Jeffrey Noolas.
The JAMIS Summit is an exclusive event where JAMIS' partners and customers come together to discuss the latest innovations in cloud computing and the future of cloud ERP software. During this summit, there are versatile training courses on the future of ERP software and the industry, and lectures by executives with product expertise.
In previous years, attendees have benefited from the insights of other industry experts such as Major Dan Rooney, a Patriotic Philanthropist, and Author. Stan Soloway, President of the Professional Services Council and Alan Chvotkin, Executive VP and Council of the Professional Services Council and much more.
"The JAMIS Summit offers invaluable networking opportunities for JAMIS customers, as well as hands-on experience with government and accounting compliance products and services, all while enjoying the fantastic food and accommodations of the San Diego, Mission Bay Hilton Resort and Spa," said JAMIS Vice President of Development and Support, Naomi May.
To register or learn more about the 2017 JAMIS Summit, visit our website at https://summit.jamis.com/.
###
About JAMIS Software Corporation
JAMIS Software Corporation is a leading provider of ERP software solutions designed specifically for government contractors and other project-focused organizations. JAMIS delivers comprehensive, intuitive, innovative, and cost-effective solutions for the most respected names in government contracting. Companies large and small rely on JAMIS to provide detailed visibility into all of their projects, as well as provide the foundation for DCAA and other regulatory compliance. JAMIS helps companies connect with customers, partners, and employees in entirely new ways to foster new levels of collaboration and drive profitability and growth. For more information, visit https://jamis.com/.
About Acumatica
Acumatica provides cloud-based business management software that empowers small and mid-size businesses to accelerate their businesses and drive growth. Built on cloud and mobile technology and a unique customer-centric licensing model, Acumatica delivers a suite of fully integrated business management applications, such as Financials, Distribution, CRM and Project Accounting, on a robust and flexible platform. In an interconnected world, Acumatica enables customers to take full control of their businesses, play to their organizations' unique strengths and support their clients by following them anywhere on any device. For more information, visit http://www.acumatica.com.