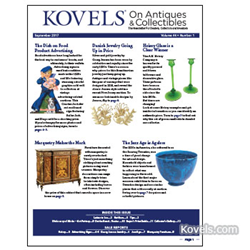 Cleveland, Ohio (PRWEB) August 30, 2017
Advertising signs sold well to collectors at two New York auctions and are featured in a sale report in Kovels on Antiques & Collectibles September 2017 newsletter. Food product advertisers have long looked for the best way to their customers' hearts—and their wallets. Kovels' sale report has pictures and prices of 1920s and '30s store display signs with colorful graphics plugging everything from meat to medicine that auctioned from $100 to over $4,000. Antique and vintage jewelry by the George Jensen company sold at auction in New Jersey and it keeps going up in price. Jensen jewelry has been worn by royalty and celebrities since the early 1900s. Kovels' September newsletter pictures silver necklaces and earrings, as well as a gold pin and the top lot gold bracelet that brought $5,000. And another New Jersey auction offered more than 500 lots of vintage Heisey glassware. Find colorful Heisey examples along with their prices in Kovels' latest issue.
Two auction houses in New Orleans recently held estate sales that included furniture with marquetry decoration. September's newsletter pictures an assortment of pieces with simple to intricate marquetry design with prices that reached $3,750. And Kovels' couples a major upcoming museum exhibit on "Jazz Age" design with recent auction finds of similarly designed furniture. For prices and more information about the exhibition that spotlights the dynamic 1920s American art form, be sure to catch the September issue.
Terry Kovel writes about how collecting has changed as she looks forward to the fall publication of Kovels' 50th anniversary price guide. Kim Kovel goes "on the road" to Venice, Italy, to enjoy the Art Biennale. The popular illustrated Collector's Gallery answers readers' questions about a Buddha triptych, carnival glass bowl, a vase with a beehive mark and a mystery spoon. September's Dictionary of Marks lists makers of American art pottery. And more than 70 antiques and collectibles are listed in September's Buyer's Price Guide.
Kovels on Antiques & Collectibles is available as a print subscription, or as a digital version that is part of the Kovels.com Premium subscription.
Terry Kovel is America's foremost authority on antiques and collectibles. She is the well-known columnist and author of more than 100 books on antiques and collecting. The 50th anniversary edition of Kovels' Antiques & Collectibles Price Guide will be published later this year. The 2017 edition is currently available at Kovelsonlinestore.com and local bookstores. Terry Kovel will discuss antiques and collectibles topics with accredited media. Photographs are available. Contact pr(at)kovels(dot)com.
About Kovels.com
Kovels.com, created by Terry Kovel and her daughter, Kim Kovel, provides collectors and researchers with up-to-date and accurate information on antiques and collectibles. The company was founded in 1953 by Terry Kovel and her late husband, Ralph. Since then, the Kovels have written some of America's most popular books and articles about antiques, including the best-selling annual Kovels' Antiques & Collectibles Price Guide. The website, Kovels.com, online since 1998, offers more than a million free prices, and includes a free weekly email, "Kovels Komments." It gives readers a bird's-eye view of the market through the latest news, auction reports, a Marks Dictionary, readers' questions and answers and much more.
Contact Information:
Liz Lillis
216.752.2252
Pr(at)kovels(dot)com