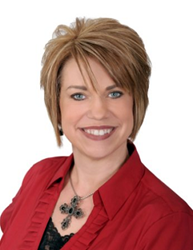 "I look forward to leading the Society's staff to create innovative opportunities for our members, as well as Chapters to develop, and share decorative painting." - Jennifer Arnold, Executive Director, SDP
Wichita, KS (PRWEB) August 29, 2017
The Society of Decorative Painters (SDP) is pleased to introduce Jennifer Arnold as its new Executive Director. Jennifer will lead the Society's staff in the organization's strategy and mission to provide a fun, creative environment where its members can share ideas and develop skills in all styles of painting.
"Jennifer's 15 years of experience working for non-profit organizations makes the Society's Board confident she is the right person to lead the Society to grow membership, enhance member value and satisfaction, and to support our more than 200 chapters worldwide," said Kaye Singer, 2017-2018 Board President, SDP.
"I am honored to be a part of the Society, which encompasses so much talent. I look forward to leading the Society's staff to create innovative opportunities for our members, as well as Chapters to develop, and share decorative painting," said Arnold.
From 2005 to 2012, Jennifer served as the Executive Director for two Chambers of Commerce in the greater Wichita, Kansas area, where she was responsible for promoting community development through business and financial partners, school district improvements, and community events. Most recently, Jennifer was the Program Director for the Girls Scouts of Kansas Heartland, responsible for volunteer support, girl leadership and product sales. This involved over 3,200 volunteers and 9,000 girls in 80 counties in Kansas.
For more information about the Society's leadership, visit decorativepainters.org.
ABOUT THE SOCIETY OF DECORATIVE PAINTERS
The Society of Decorative Painters (SDP) is a global community for painters and aspiring artists to share ideas, develop skills and participate in a fun creative environment. SDP recognizes diversity and excellence in all styles of painting. SDP has more than 200 affiliated chapters all over the world that actively promote the art form through community service projects and painting-related activities. SDP publishes the industry's leading decorative painting magazine, The Decorative Painter, and hosts one of the largest annual painting conferences and expos that draws worldwide artists. For more information, visit decorativepainters.org.