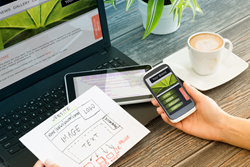 This move represents an exciting development for nitara and reinforces our commitment to 'home' first," says Stefani Butler, Founder and Creative Director.
Kokomo, IN (PRWEB) August 30, 2017
nitara marketing and design (commonly known as "nitara") is pleased to announce that it has moved to a new, dedicated office space located at the popular coworking spot, The Hub Downtown, situated in the heart of downtown Kokomo, Indiana. The new office space, which is set to accommodate the company's continued growth and expansion, enables nitara to showcase its dynamic, budget-friendly digital marketing solutions to potential and existing clients in Kokomo and surrounding areas.
According to Founder and Creative Director, Stefani Butler, "This move represents an exciting development for nitara and reinforces our commitment to 'home' first. Over the past 18 months, we have grown from a global online-only digital marketing agency, to establishing a local presence right here in my hometown. In this regard, the new office will promote our vision to fulfill the growing brand expectations of local clients, without them having to spend a lot of money or compromise on quality. While remaining cost-conscious, we are designing the space to look sharp and engaging so as to create a showcase that will help attract and sustain new clients."
nitara's cutting-edge, creative services are uniquely designed for small business owners and nonprofits with limited budgets who want to establish a compelling brand that appeals to current and new customers and donors. The new location in historic downtown Kokomo is an ideal site that resonates with these target audiences. Potential clients are encouraged to visit nitara's new office at The Hub, 105 East Sycamore Street, or contact them at 1-866-752-8461, extension 2 for a FREE 30-minute initial consultation. "We believe your vision is the story the world is waiting to hear, and we want to help you tell it," says Butler.
Nitara provides a diverse range of digital marketing services, including:

Responsive Web Design and Development
Mobile App Development
Social Media Management
Graphic Design (Logos, Infographics, PowerPoint)
Content Writing (Ghostwriting, Blogging)
Data and Market Research
SEO and Pay Per Click (PPC)
Virtual Administrative Assistant Services
About nitara, a division of the plat4m group LLC
nitara was founded by Kokomo-native, Stefani Butler, a Kokomo High School and Indiana University-Purdue University of Indianapolis (IUPUI) graduate, and former Howard County Junior Miss (1995). nitara's creative marketing services have helped businesses build their brands without sacrificing their budgets. With their motto,"Cultivating Vision. Rooted in Value," nitara helps entrepreneurs, solopreneurs, small and mid-size businesses, and nonprofits tell the world their story through the creation of compelling visual and literary content. Visit http://www.nitaramarketing.com for additional information.
About the plat4m group
The plat4m group is a Prosci® licensed change management, communications, and IT practice, focused on creating transformative, 'sticky' experiences for businesses, education, and nonprofits. Visit http://www.theplat4mgroup.com for additional information.