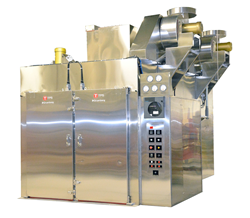 New Columbia, PA (PRWEB) August 29, 2017
Thermal Product Solutions, a global manufacturer of thermal-processing equipment, announced the shipment of a Granulation Dryer to a manufacturer of pharmaceutical and nutritional products. This single pass granulation dryer is designed to dry 150 liters of water from pharmaceutical granulation.
The maximum temperature rating of this pharmaceutical dryer is 150°F, and the work chamber dimensions are 74" W x 185" D x 74" H.
The granulation dryer body is 304L Stainless Steel and is designed with NFPA 86 Class "A" construction. The drying system can accommodate 1440 lbs. of product on 240 trays that are loaded via 6 trucks.
"At TPS, we strive to find the best solutions for our clients. This single pass Gruenberg pharmaceutical dryer is designed with enough heat capacity for outside intake air to be conditioned to the customer's process temperatures during winter." – Blake Lawson, Sales Process Manager
Unique features of this Gruenberg granulation dryer include:

NFPA 86 Class A construction
Single Pass airflow design
Pass Through design
5 Intake HEPA filters, 4 intake blowers, and 2 exhaust blowers to create 10,000 CFM single pass airflow
Oven loaded 2 trucks wide, 3 trucks deep
About Gruenberg
Gruenberg, a division of Thermal Product Solutions, LLC, is recognized as a leader in the design and manufacture of a comprehensive line of standard and custom industrial batch and conveyor ovens that accommodate temperatures up to 1200⁰F. Gruenberg products are known for their durability, innovation, and superior performance. Additional products offered by Gruenberg include custom pharmaceutical ovens, depyrogenation ovens, granulation dryers, pharmaceutical sterilizers, and lab animal science sterilizers.
About TPS
Thermal Product Solutions ("TPS"), is a leading American manufacturer of industrial ovens, furnaces, pharmaceutical sterilizers, laboratory ovens, environmental temperature chambers, and stability test chambers. TPS provides thermal processing and test solutions for a range of industries. TPS brands include Baker Furnace, Blue M, Gruenberg, Tenney, Lindberg, Lunaire, MPH, and Wisconsin Oven. For more information on equipment solutions from TPS visit the website at http://www.thermalproductsolutions.com. #116477