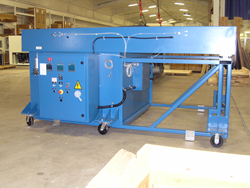 New Columbia, PA (PRWEB) August 30, 2017
Thermal Product Solutions, a global manufacturer of thermal-processing equipment, announced the shipment of a Gruenberg Top Load oven to an advanced technology supplier. This top load oven will be used for heating steel products.
The maximum temperature rating of this heat- treating oven is 650°F and the work chamber dimensions are 45" W x 45" D x 50" H. A high volume, compound horizontal airflow system was utilized to insure uniform heat distribution throughout the oven chamber and optimize efficiency. Based on a nine-point thermocouple survey before shipment in an empty, stabilized chamber, the final temperature uniformity of this oven is ±5°F at 605°F.
This Gruenberg top loading oven is designed to heat the work chamber to 650°F in approximately 3 hours with a steel load weighing 7,500 lbs. The oven floor was reinforced to support the heavy load weight. An automating horizontal sliding lid provides easy loading and uploading for the operator.
"When designing this top load oven, we utilized the high volume horizontal airflow system to make sure the equipment achieved the uniformity and heat up rate the customer required. The weight of the load also needed to be considered, so we added a reinforced floor that could withstand the heavy loads." Blake Lawson, Sales Process Manager
Unique features of this Gruenberg top load oven include:

Automated horizontal slide door
Eurotherm Controller, high limit, and product limit
High volume compound horizontal airflow system
Uniformity of +/- 10°F at 600°F (Final uniformity was +/- 5° at 605°F)
Thermocouple jacks
Reinforced oven floor
About Gruenberg
Gruenberg, a division of Thermal Product Solutions, LLC, is recognized as a leader in the design and manufacture of a comprehensive line of standard and custom industrial batch and conveyor ovens that accommodate temperatures up to 1200⁰F. Gruenberg products are known for their durability, innovation, and superior performance. Additional products offered by Gruenberg include custom pharmaceutical ovens, depyrogenation ovens, granulation dryers, pharmaceutical sterilizers, and lab animal science sterilizers.
About TPS
Thermal Product Solutions ("TPS"), is a leading American manufacturer of industrial ovens, furnaces, pharmaceutical sterilizers, laboratory ovens, environmental temperature chambers, and stability test chambers. TPS provides thermal processing and test solutions for a range of industries. TPS brands include Baker Furnace, Blue M, Gruenberg, Tenney, Lindberg, Lunaire, MPH, and Wisconsin Oven. For more information on equipment solutions from TPS visit the website at http://www.thermalproductsolutions.com. #118988