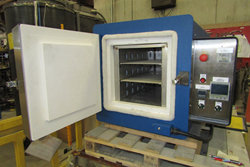 Riverside, MI (PRWEB) August 29, 2017
Lindberg/MPH announced the shipment of a Temperite box furnace and a Treet-All box furnace to the Maritime industry. The box furnaces are designed to be used in a stacked configuration or stand alone. They can also be used with a roller quench tank if needed. The box furnaces have work chamber dimensions of 12" W x 30" D x 12" H.
The Temperite and Treet-All are a modular, stackable, and space-saving line of box furnaces that meets and exceeds industry standards for heat-up rates and outer shell temperatures. The over/under box furnaces can be bench-mounted, stacked or supplied with a furnace stand and quench thank. The optional split quench tank, mounted on wheels, is designed for use with water and oil. Removable work baskets are also included.
The Temperite™ Box Furnace has a high velocity forced convection heating system and three loading levels with two removable shelves. The work area temperature uniformity is ±10° over the range of 600° to 1400°F. An empty furnace would take approximately 1.5 hours to heat up from ambient to maximum temperature.
The Treet All™ Box Furnace has a work area temperature uniformity of ±25° over the range of 1400° to 2000°F. The furnace is equipped with nitrogen atmosphere capability with retort system.
"The stackable design of these box furnaces minimize floor space and allow for more efficient use of the customer's work space."- Kelley Shreve, Applications Engineer
Unique features of these Lindberg/MPH stackable furnaces include:

Quick, consistent heat up rates
Full access to work chamber
Minimum heating of outer skin
Product load protection
Precise control with long life and reliability
Excellent temperature uniformity ±1400-2000°F
Lightweight Moldatherm insulation
Side-mounted controls
Double Shell
These box furnaces were completely factory assembled, pre-wired, piped and tested prior to shipment. All Lindberg/MPH equipment comes with an exclusive 3-year warranty, which covers all materials for all components (less wear items).
About Lindberg/MPH
In addition to melting and holding furnaces for non-ferrous alloys, Lindberg/MPH is a leading manufacturer of standard and custom industrial heat treat furnaces, including pit, box, IQ, and belt type for the ferrous and non-ferrous markets. Lindberg/MPH customers cover a wide range of industries including aerospace/military, automotive, commercial heat treating, energy/oil, electronics and the forging markets. Founded in 1917, the company has more than 75,000 industrial furnace installations worldwide and their equipment is backed by a full range of customer support services and the most extensive replacement parts inventory in the industry. Lindberg/MPH is a proven leader in the thermal processing industry, with a long track record of proven policies and management practices.
Lindberg/MPH is owned by Thermal Product Solutions ("TPS"), a leading American manufacturer of custom industrial ovens used for heat treating, finishing, drying, curing, manufacturing automation and process control. TPS is a global leader in thermal processing products and test solutions with brands including Baker Furnace, BlueM, Gruenberg, Tenney, Lindberg, Lunaire, MPH, and Wisconsin Oven. For more information on equipment solutions from TPS visit the website at http://www.thermalproductsolutions.com. #225592