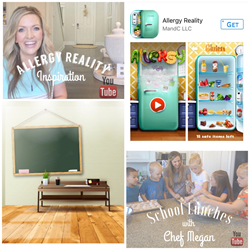 Play it. Love it. Share it.
Los Angeles,CA (PRWEB) August 29, 2017
Having children with food allergies, Celiac Disease or any restricted diets can be anxiety filled, emotionally draining and depriving for the whole family. Food allergies affect 2 children in every school classroom. That number is ever increasing. Back to school may be the most stressful time... trying to ensure the safety of the child in the classroom and around his or her peers.
The co-founders of Allergy Reality are making a huge difference in the food allergy and Celiac communities by launching and growing their brand.
Allergy Reality has launched a very successful educational gaming app this summer to prepare children and adults with food allergies to be safe this upcoming school year. The app covers five main food allergies: gluten, dairy, nuts, soy and eggs. This tool has proven to not only help food allergy suffers but their teachers and classmates as well; giving them a basic knowledge of food allergy safety.
The brand recently launched a YouTube channel "Allergy Reality" to further teach allergy awareness. This channel offers online cooking classes taught by co-owner and chef Megan Dow and has educational and inspirational videos headed up by co-owner Coral Barajas. The channel is a growing platform to showcase recipes, cooking tips, inspirational stories and lifestyle aids while dealing with food allergies or restricted diets.
The brand is continuing to gain a lot of media press and has grown a following on social media platforms.
You can find Allergy Reality: the educational gaming app on the AppStore and GooglePlay.