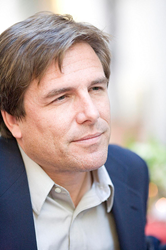 Stepping into Hank's role as CEO of VidCon is sort of like replacing David Tennant in Doctor Who.
Missoula, Montana (PRWEB) August 29, 2017
VidCon, LLC, parent company of the world's most successful events celebrating the culture and business of online video, has named Jim Louderback as its new Chief Executive Officer. Company founder Hank Green, who has led the popular conference for the last eight years, assumes the role of Chairman, while expanding his focus on guest experience and creator content.
In addition, two senior VidCon executives have been promoted into new roles to accelerate VidCon's worldwide growth. Michael Gardner assumes the new role of Chief Strategy Officer, where he will expand the VidCon brand into new markets and event categories, while Colin Hickey steps into the Chief Operating Officer role, overseeing the company's existing events in Anaheim and beyond. United Talent Agency continues to manage VidCon's business development efforts, working with sponsors and strategic partners across the company's events.
"I've always been a creator first and the CEO of VidCon second," said VidCon Founder Hank Green. "And while this team has been able to do amazing things with a part-time CEO, the moment I pictured Jim leading this company, I couldn't go back. He's worked with us for years, been to every VidCon since year one, and knows as much about the history and culture of online video as anyone."
"Stepping into Hank's role as CEO of VidCon is sort of like replacing David Tennant in Doctor Who", said Jim Louderback. "VidCon is the most special event I've ever attended, and it's been an honor to help curate part of it over the last three years. Hank has built one of the most amazing teams in the business, and I am looking forward to expanding on his success while ensuring VidCon remains true to Hank's original vision."
Louderback has been Editorial Director for VidCon's industry tracks around the world for the past three years, drawing more than 3,500 industry leaders to the company's flagship event in Anaheim in June. He was previously CEO of online video network Revision3, which he sold to Discovery Communications — where he launched five new businesses as GM of Discovery Digital Networks. He was formerly the Editor in Chief of PC Magazine and a senior executive on the launch team at cable network TechTV.
Hank Green will continue his work on the Creator Track content and featured guest experience teams, which has been his focus for several years. He will also chair the board of directors, which will guide the overall direction of the events and the company.
ABOUT VIDCON: VidCon's flagship US show began in 2010 as 1,400 online video professionals gathered in a hotel ballroom to discuss the nascent industry. In 2017, VidCon US attracted over 30,000 fans and industry executives, and over 70 sponsors, to the Anaheim Convention Center and surrounding hotels for four days of programming across over 1 million square feet of experiences and exhibits. 2017 also marked VidCon's global expansion to Europe in April and the upcoming VidCon Australia in Melbourne, September 9-10. Each show brings together the biggest names in online video, fans from around the world, industry professionals, and sponsors including YouTube, Facebook, Taco Bell, AwesomenessTV, FullScreen, Mars Inc., Universal Pictures, NBC Entertainment, and more.