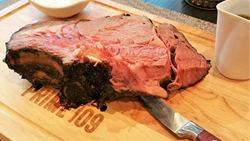 Fremont, CA (PRWEB) August 29, 2017
Prime 109 Steak & Libation House has opened its doors to the people of California at its first location in Fremont. Prime 109 aims to bring the best of steak with an ambiance that allows guests to enjoy good food and drink from the best steak chefs in the industry.
The restaurant is located in Pacific Commons Shopping center, with a dinner menu list that comprises delicious and amazing meals made by world-class chefs. The restaurant also has a celebration bar for large groups and for hosting holiday parties.
Prime 109 Steak and Libation House, in its relatively short duration of existence, has been able to steal the heart of lovers of finely crafted good food and cocktails. The steaks made by the chefs in Prime 109 are deliberately made to preserve the real taste of steak, as they are cooked with the bone.
The restaurant also offers a wide range of cocktails made from freshly squeezed juices and fresh herbs from the garden. The unique combination of tapas style seafood plates and other good, healthy and delicious meals with amazing drinks has attracted residents of Fremont and surrounding areas to the restaurant.
Prime 109 offers a unique experience that transforms the traditional dining experience, with a touch of wine tasting added to the feel. The restaurant also offers extensive menus, wine lists and specialty cocktails that will tempt the appetite of any lover of a healthy and intimate dinner.
The authentic menu and creativity that comes with every meal at Prime 109 is an additional attraction for customers. The menu is created drawing inspiration globally and regionally, using fresh and seasonal ingredients to create authentic flavors prepared according to time-honored traditions.
The Prime Rib is the main menu at Prime 109, featuring what has been described as the best prime rib ever.
The ambiance of Prime 109 provides a delectable indoor and outdoor dining experience with candlelit tables on the inside and patio under the clear starlit sky bathed in stars on the outside.
Chef Andre (Andy) Revella and his team at Prime 109 have done a great job in putting together what has suddenly become the go-to place for the people of Fremont and surrounding areas. The restaurant is also great for semi private dining thanks to the wonderful environment and the good food that comes with it.
About Prime 109 Steak & Libation House
Prime 109 Steak & Libation House is a restaurant founded by experienced and world-renowned chef, Andre (Andy) Revella. Before establishing Prime 109 Steak & Libation House, Andy Lifestyle Ventures was a food service business development company that was the operating partner of Harrah's Casino, B.B.Kings Cafes, Gaylord Entertainment, Sara Lee, Cirque de Soleil, Coca-Cola, and Choice Hotels International.
The veteran chef has been in the industry for over 40 years and has leveraged his wealth of experience and knowledge to establish Fremont's first casually elegant steakhouse, Prime 109 Steak & Libation House for lovers of good food and wine.
Now accepting reservations for small to large parties. Contact info(at)prime109steaks(dot)com or visit http://www.prime109steaks.com for an unforgettable experience. Cheers.