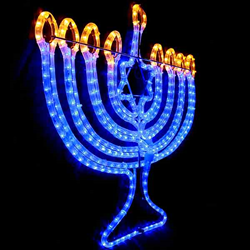 A symbol of light, wisdom and divine inspiration
Los Angeles, CA (PRWEB) August 30, 2017
The holidays are a perfect time to warm the hearts and souls of friends and family. Many people of faith hope to share their joy of belief during this season, but struggle to find an approach they are comfortable with. Surprisingly enough, the simplest way is sometimes best.
People who belong to the Jewish faith believe the menorah is a symbol for light, wisdom, and divine inspiration. According to their faith, it represents a miracle of God providing for his people during a time when they did not have enough to provide for themselves. With the holiday season on the horizon, what symbol would be better to decorate the home of a believer than an illuminated menorah?
With AQLighting's latest release of unique LED menorah motifs, people who celebrate Hanukkah can deck their homes with light and faith. "This is quite possibly the most unique holiday lighting out on the market today. Not only is it perfect for decorating, it's an absolute must have for any Jewish home during the holiday of Hanukkah," said Mark Fisher, Senior Accountant at AQLighting.
Holiday lighting can be dated back to the 17th century. While some claim it represents the star of Bethlehem, and others believe it started with candles illuminating a Christmas tree to share the birth of Jesus, it is a tradition that has been shared across the nation. The true tradition may not have stemmed from any one act, but it has certainly evolved into a great visual spectacle today. Holiday lighting inspires entire blocks to work together to create Candy Cane Lanes – it could be said that the real benefit of lighting up our homes could simply be the bringing together of neighbors.
Lighting choices have come a long way from multicolored string lights. With new designs and features coming out annually, lighting motifs have been growing in popularity and this year is no different! AQLighting's LED menorahs are the latest iteration of holiday motifs, perfectly encapsulating the religious symbol of peace and light in this compact, eye catching decoration.
The LED menorah motif is easy to install and offers dynamic lighting effects. The candle lights warmly blink separately from the rest of the motif, creating a mesmerizing flicker effect. Once a desired prominent location is selected for the menorah, simply plug it in. There is no need to worry about clipping the lights to a frame or piling up a bunch of extension cords to power the display. The installation could not be simpler. Either plug the menorah into a power cord or use a jumper connector and combine with other holiday lights. The best part is the menorah is also compatible with custom or contemporary landscape lighting stakes, so it can be placed near the ground or closer to eye level for a more traditional look
Menorahs are available for sale now at AQLighting and Amazon. Pricing starts as low as $89.99.
About Us: AQLighting sells and manufactures a variety of lighting fixtures for residential and commercial consumers. Keeping customers in mind, the company strives to bring high quality and affordable lighting fixtures for DIY enthusiasts and licensed electricians alike.