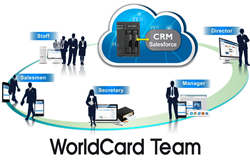 A collection of business cards is considered an important company asset which needs to be managed and protected like any other.
FREMONT, CALIFORNIA (PRWEB) August 29, 2017
Developer Penpower Inc. has announced the release of the WorldCard Team Business Card Management System that allows corporate users to scan business cards and store contacts into a secure industry standard database running on their corporate network. With the WorldCard Team client software, users can easily save business cards via a smartphone or laptop and utilize contact information anytime anywhere.
"Business cards represent potential opportunities and those opportunities lead to business partnerships," said PenPower Inc. VP William Xu. "A collection of business cards is considered an important company asset which needs to be managed and protected like any other."
Users can simply save contact information into smartphone and PC by scanning or capturing the business cards. PenPower's best of the breed technology ensures extremely high recognition rates for 25 languages, such as English, Japanese, Korean, French, German, Italian, Traditional and Simplified Chinese, etc. The contacts can be categorized into different groups and searched by keywords.
Owing to the automatic data synchronization, users can ubiquitously save or access contacts between smartphone and PC. Managers are able to assign tedious scanning work to their assistants or secretaries. The contact data will be transferred to manager's account without leaving a copy in assistant's account after the scanning work. "Managers' precious time can be devoted to more valuable and innovative tasks," Xu said.
All contact information and the original business card images are securely stored into the WorldCard Team server. WorldCard Team provides real-time backup function and prevents data loss by RAID 1 disk mirroring. The data will be written simultaneously to two disks in the server. If one disk fails, users can still retrieve the data immediately from the backup disk. WorldCard Team ensures that the system operates uninterruptedly. Companies won't suffer any data loss resulting from the turnover of employees.
The contacts of WorldCard Team server can be shared among groups of colleagues in a managed way. WorldCard Team helps companies to create sustainable network of contacts by the data connection and team collaboration. "To further the security of the contacts, individual user accounts and permissions can be set independently to ensure different levels of access rights. WorldCard Team also adopts encryption methods to keep all of the contacts data safe while in transmission," explained by Xu.
Companies can build its own private cloud in Local Area Network. With the help of DDNS service, users can connect with WorldCard Team server and access contacts anytime anywhere. WorldCard Team can seamlessly integrate with Salesforce system by exporting the contacts to Salesforce and saving its users from manual entry of the contact data.
For a free trail and more information, visit http://www.worldcardteam.com/en or call +1 888-716-8668
Features

Quick to install, easy to start
Digitize business cards in multiple languages
Intuitive user interface design
Efficiently receive contact data from assistant
Automatic data synchronization between Smartphone and PC
Contacts are centrally managed and permanently stored in the company database
Share business cards among groups and create sustainable network of contacts
Manage access rights and transmit in encryption
Double data protection with RAID 1 disk mirroring backup
Build a private cloud with WorldCard Team
Integrate with Salesforce system
System Requirements
Windows: Requires Windows 10 / 8 Desktop mode / 7
Mac: Requires Mac OS 10.11 and above
iOS: Requires iOS 9 and above
Android: Requires Android 4 and above
About Penpower:
PENPOWER TECHNOLOGY - Founded in 1991 is a world leader and pioneer in providing integrated solutions for Intelligent Human Computer Interface Technologies. It specializes in the development of new and innovative products in the areas of business productivity software, Asian language-based software and mobile electronics and striving to develop core technologies of intelligent, human-machine interfaces since day one. It is our firm belief that technological innovation should narrow the gap between human and machine. PenPower is committed to bringing such technologies to life. PenPower has grown into a group of companies in all the major parts of the world like China, Hong Kong, Singapore, Taiwan and the US to provide locally adapted products and timely responses to meet local demands. PenPower products have not only gained market acceptance but also have won awards from different organizations including government agencies, industry magazines, and trade show hosts and among the best awards PenPower was presented with awards by three Presidents of Taiwan in recognition of its dedication to innovation.
Contact:
Name: William Xu
Designation: Vice President
Contact E-mail: sales(at)penpowerinc(dot)com
Contact Phone: +1 888-716-8668
City: Fremont
State: California
Country: USA