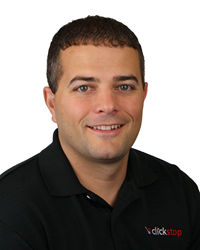 The Akins reinvented the traditional-style, self-service laundry into one that's modern, clean, comfortable, energy-efficient and fast.
Urbana, Iowa (PRWEB) August 29, 2017
Clickstop has purchased Clean Laundry Licensing Co. from Waterloo-based Akin Enterprises Inc. The self-service laundry facilities offer multiload machines, as well as modern amenities like large-screen televisions, wireless Internet and cushioned seating.
Along with the acquisition, Clean Laundry's co-founders are now Clickstop employees. As announced earlier this month, Phil Akin has been hired as Clickstop's chief marketing officer. His son, Ethan Akin, previously the market manager for Clean Laundry, will oversee its continued growth and licensing opportunities as the brand's Business Unit Fanatic™ (BUF™). Both started at Clickstop on July 17.
BUF™, a term coined by Clickstop, refers to the leaders of its diverse suite of business units headquartered in Urbana. Clickstop owns and operates several e-commerce retailers, including EcoFoil, Fasteners Plus, Just Plastic Boxes, Pepper Joe's, SpaceSavers and US Cargo Control.
Under the purchase agreement with Clickstop, Akin Enterprises will continue to own and operate both existing Waterloo locations, now as licensed stores — one near Crossroads Mall at 2060 Sovia Drive, and the other at 709 Progress Ave., just off University Avenue near the Waterloo-Cedar Falls border. Also as part of the transaction, the Akins have committed to developing two more stores in the Waterloo-Cedar Falls area.
The Akins debuted their first Clean Laundry store in Waterloo in May 2014. A second Waterloo location followed in October 2015. The newest Clean Laundry store, owned and operated by Waterloo resident Marc Starks, opened Aug. 17 at 6600 Kirkwood Blvd. S.W., Suite #200, in Cedar Rapids.
In addition to small- and large-capacity washers and dryers, the 24-hour outlets include water-softening systems, padded lounge-style seating with built-in charging stations for electronics, large-screen televisions, free wireless Internet, air conditioning and security video monitoring. Clean Laundry stores feature a spacious layout and an energy-efficient design.
"The Akins reinvented the traditional-style, self-service laundry into one that's modern, clean, comfortable, energy-efficient and fast," said Tim Guenther, Clickstop founder and CEO. "It's a great fit for both companies because Clickstop can now help support the rapid expansion of the chain. There are already licensees pursuing locations in Minnesota and Florida."
Licensees pay an upfront fee and an ongoing royalty to use the Clean Laundry system and name.
###
About Clickstop Inc.
Clickstop, based in Urbana, Iowa, grows business units of different sizes, serving multiple industries and markets by employing Business Unit Fanatics™ and supporting these individuals through shared services. Clickstop drives business unit growth through alignment with its core values, by employing an engaged workforce and by sustaining an entrepreneurial environment designed to quickly and effectively navigate change. The company's Business Unit Fanatics™ grow businesses within Clickstop by effectively utilizing shared services provided within the organization. The company's reputation and commitment to great workplace culture and engagement has landed it multiple workplace-focused awards, including multiple first-place finishes as the Coolest Place to Work in the region. For more information, visit Clickstop.com.