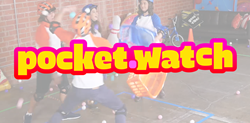 New York, NY (PRWEB) August 29, 2017
Cynopsis Kids will recognize pocket.watch, a new kids media brand that creates, acquires, distributes and curates content, with the inaugural Content Pioneer Award. Pocket.watch Founder & CEO Chris M. Williams and Chief Content Officer Albie Hecht will accept the award, presented by comedian, actor and SNL cast member Kenan Thompson. Thompson is producing a premium live-action sketch comedy series for kids titled; pocket.watch presents Skoogle, a move that reunites him with former Nickelodeon president Hecht.
"Pocket.watch is emblematic of a new kind of children's entertainment company, one that intrinsically embraces kids' shifting viewing habits," says Cynopsis Kids editor Cathy Applefeld Olson. "Chris, Albie and their team are both partnering with best-in-category creators to elevate story-telling, and forging new distribution paths. This makes pocket.watch the ideal recipient of our inaugural Content Pioneer Award."
Pocket.watch, YouTube Kids and Family, and NBC's Little Big Shots, along with dozens of !magination Awards finalists, will be honored on Tuesday, September 19 at the Cynopsis Kids Awards breakfast ceremony. Register for the Breakfast event here. General categories include best work in apps, online interactive experience, series/specials, advertising campaign and more. The complete list of finalists and categories can be found here.
For registration questions, contact Cathy Pearson at cathyp(at)cynopsis(dot)com. For advertising, sponsorship information, or to buy an ad in the program, contact VP of Sales & Marketing Mike Farina at mike(at)cynopsis(dot)com.
About Cynopsis Media:
Cynopsis is what the TV industry reads first every day. The Cynopsis family of products includes the media industry's most-read daily, Cynopsis, plus sister dailies Cynopsis Digital and Cynopsis Sports, the Cynopsis Jobs board and special reports. Serving TV, agency and brand professionals, Cynopsis Media produces conferences, webinars, and awards programs that are second to none. Find out more at cynopsis.com.